River Rapids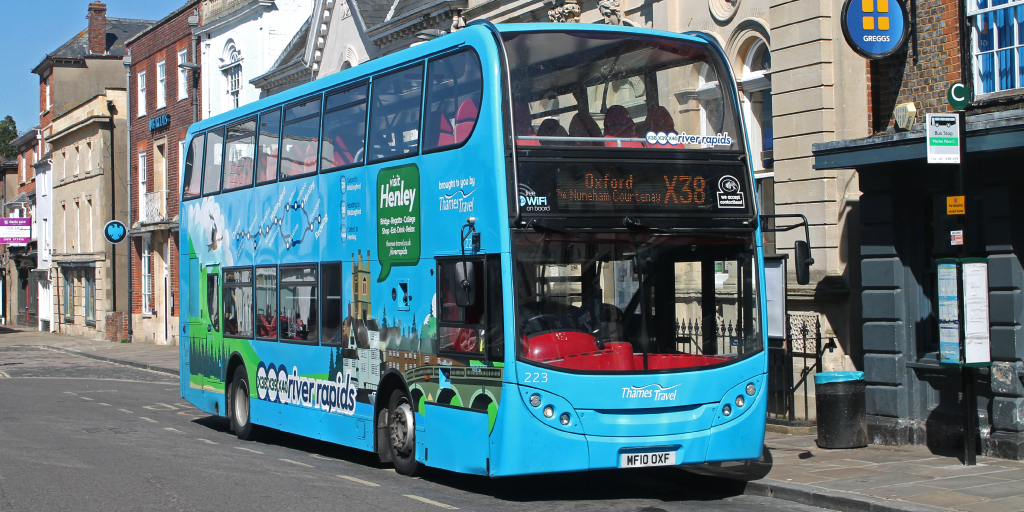 Catch the River Rapids X38/X39/X40 to Oxford, Wallingford, Henley or Reading, and enjoy the terrific trip along the Thames.

With the River Rapids buses, you can explore the delights that South Oxfordshire has to offer, and below we've included some of the fabulous destinations along the route.
You can also check out the Good Journey website for some amazing car-free days out ideas with the River Rapids.
Reading

Why not take the kids exploring around View Island and find the hidden sculpture or learn about the history of the Reading Abbey Quarter? Need a break from adventure, head to The Oracle for some shopping and a bite to eat. (Stop: Reading Town Centre)

Find out more about the Reading Abbey Quarter

Oxford

Why not learn about the history of this beautiful city by taking a hop on hop off open-top bus tour with City Sightseeing Oxford? Hop off the bus and explore the many fascinating museums including the Ashmolean and Pitt Rivers. If history isn't your thing then why not amble around one of the beautiful parks on offer from University Parks to Christ Church Meadows or climb Carfax Tower for amazing views and then stop for a spot of lunch in one of the quaint cafés lining the city. Don't forget to hit the shops before you head home and head to the Westgate shopping centre full of global brands, diverse restaurants and leisure activities including mini-golf and a cinema. (Stop: Oxford Westgate)

Book a City Sightseeing Oxford bus tour

Harcourt Arboretum

Home to the best collection of trees in Oxfordshire. The 130-acre site is open year-round and includes wildflower meadows, bluebell woods and several walking trails through the woods. There is a pop-up café open seasonally, and you can also see the famous family of resident Peacocks at close quarters during your visit. (Stop: Nuneham Courtenay)

Find out more about Harcourt Arboretum

Nuffield Place

This grand property was the former residence of Sir William Morris, founder of the Morris Motor Company who lived there for 30 years until his death in 1963. The house now belongs to the National Trust and has been preserved just as Lord Nuffield left it. (Stop: Nuffield Common)

Visit Nuffield Place

Benson

From the bus stop, it's a short walk to Benson Waterfront. In summer, you can hire canoes or kayaks and head on to the river. Or for those less energetic souls, why not grab a table on the terrace at the Waterfront Café and watch the boats go by? From here, it's a pleasant 60-minute walk along the Thames riverbank to Wallingford and its Castle Meadows. Alternatively, you could have a more leisurely 15-minute walk to Preston Crowmarsh and enjoy some delicious locally sourced produce in a listed barn dating back almost 200 years at the Cartshed Café. (Stop: Benson Marina)

Waterfront Cafe

Dorchester-on-Thames

Fan of Midsomer Night murders? You can find many locations in this quintessentially English village as well as a 15th-century coaching inn, the George Hotel and the 12th century Abbey. From the village, you can enjoy a beautiful walk through Hurst Water Meadow to the River Thames at Days Lock. Here you can pick up the Thames Path, or why not cross the river and continue your walk up to Wittenham Clumps, a great picnic spot and the highest point for miles around. From the top of the Clumps, you can take in great views of the surrounding countryside. (Stop: Dorchester Bypass)

Find out more about Dorchester Abbey

Wallingford

Here you'll find Wallingford Castle Gardens and Meadows where you can enjoy a picnic, among the ruins of the 11th century Norman Castle. The castle motte still stands and a quick hike to the top gives great views across the river. You can also visit the Cholsey and Wallingford Railway and take a ride in a 1950s carriage pulled by a Heritage diesel locomotive through the beautiful South Oxfordshire countryside. (Stop: Wallingford Market Place)

Find out more about the Railway

Henley-on-Thames

Home of the Regatta and the award-winning River and Rowing Museum. Take your own trip on the river with both Hobbs of Henley and Salters Steamers running regular pleasure cruises along the river. You can also take the children on the Treasure Trails Murder Mystery Trek, a great challenge for the entire family! Giving you the opportunity to explore the beauty of Henley-on-Thames. It's best to buy this from home before you set off. (Stop: Hart Street)

Find out more about the Treasure Trails