Harwell Campus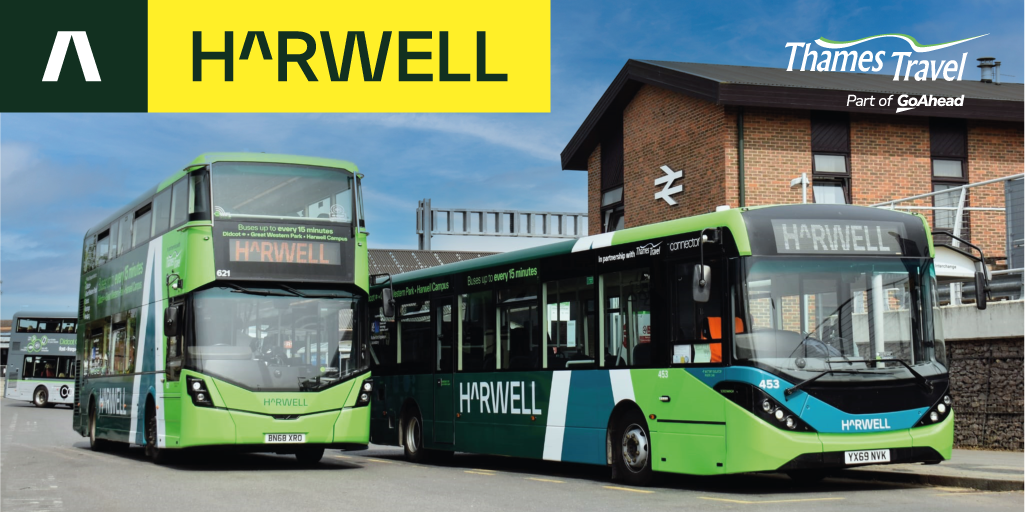 We offer frequent bus connections with Harwell Campus from Didcot Parkway, Didcot Orchard Centre, Great Western Park, Oxford, Redbridge Park&Ride, Abingdon, Wantage, Chilton, Faringdon and Newbury.


Services:
ST1 - Oxford, Broad Street direct via A34 to Harwell Campus
X34/X35 - Didcot • Great Western Park • Harwell Campus then Wantage and Faringdon (X35) or Chilton and Newbury (X34)
43 - Oxford City Centre • Abingdon • Drayton • Steventon • Harwell Campus
94 - Didcot • East Hagbourne • Blewbury • West Hagbourne • Chilton • Harwell Campus
To download our guide to Harwell Campus bus services, valid from 23rd July 2023, please click here.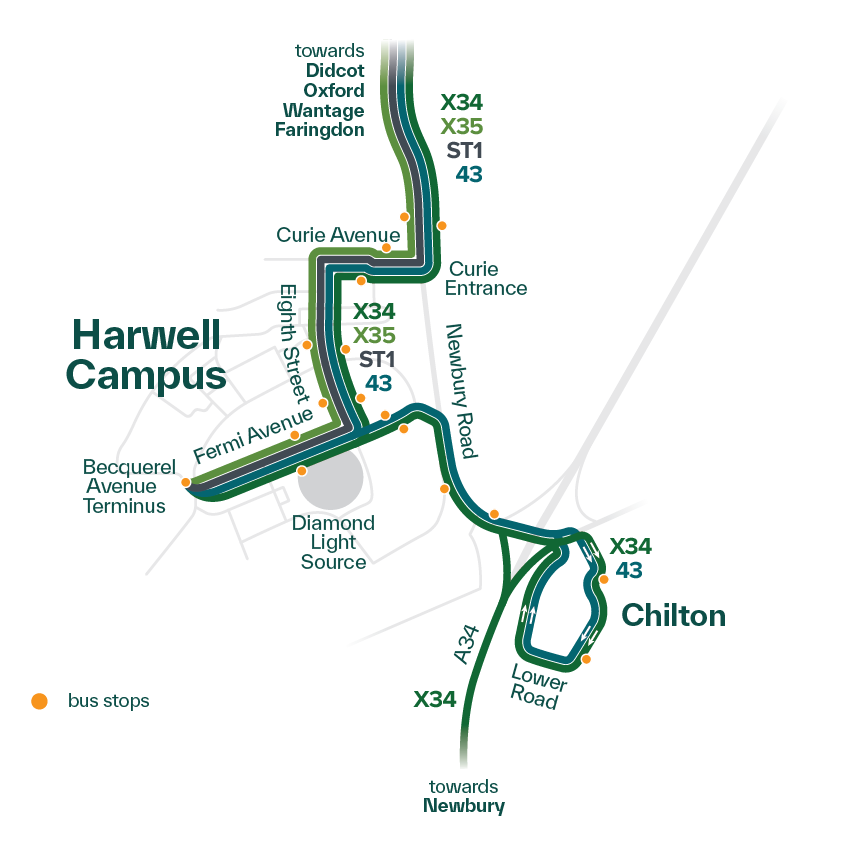 Harwell Campus network map - valid from 23rd July 2023 (PDF download)

Employees at Harwell Campus can get an exclusive 25% discount on the South Oxfordshire Zone or cityzone & South Oxfordshire Zone products on the key and the Oxford Bus app.
This discount is available on the following tickets:
Discount on the app
Please download the Oxford Bus mobile app and make sure to register with your work email address and verify the account. Your discount will be automatically applied for you at checkout and there's no need to enter a discount code.
App users benefit from:
Tickets available instantly
Live departure information and live bus tracking
Timetable information
Service updates
Discount on the key card
If you've not had a key card before, you can register for one online at www.oxfordkey.co.uk and please be sure to register using your work email address. The discount code will only work if your account is registered to your work email address.
If you already have the key, but it's not registered to your work email address, please contact us at [email protected] and we'll be able to change this for you.
Once registered, go to our key website at www.oxfordkey.co.uk and you can top up online to collect on any Oxford Bus Company or Thames Travel service. After you buy, the top-up will be available to use within 72 hours.
The discount code is Harwell.
The screen to enter the discount code is the 'Review order' screen, after you select your travel product.
Email address not working?
It may be that your employer is not yet participating in the scheme. Please contact Dawn Crawford in the Harwell Management Office and we can get you signed up.