Oxford Bus Company reveal annual lost property haul
4 months ago Tue 11th Jan 2022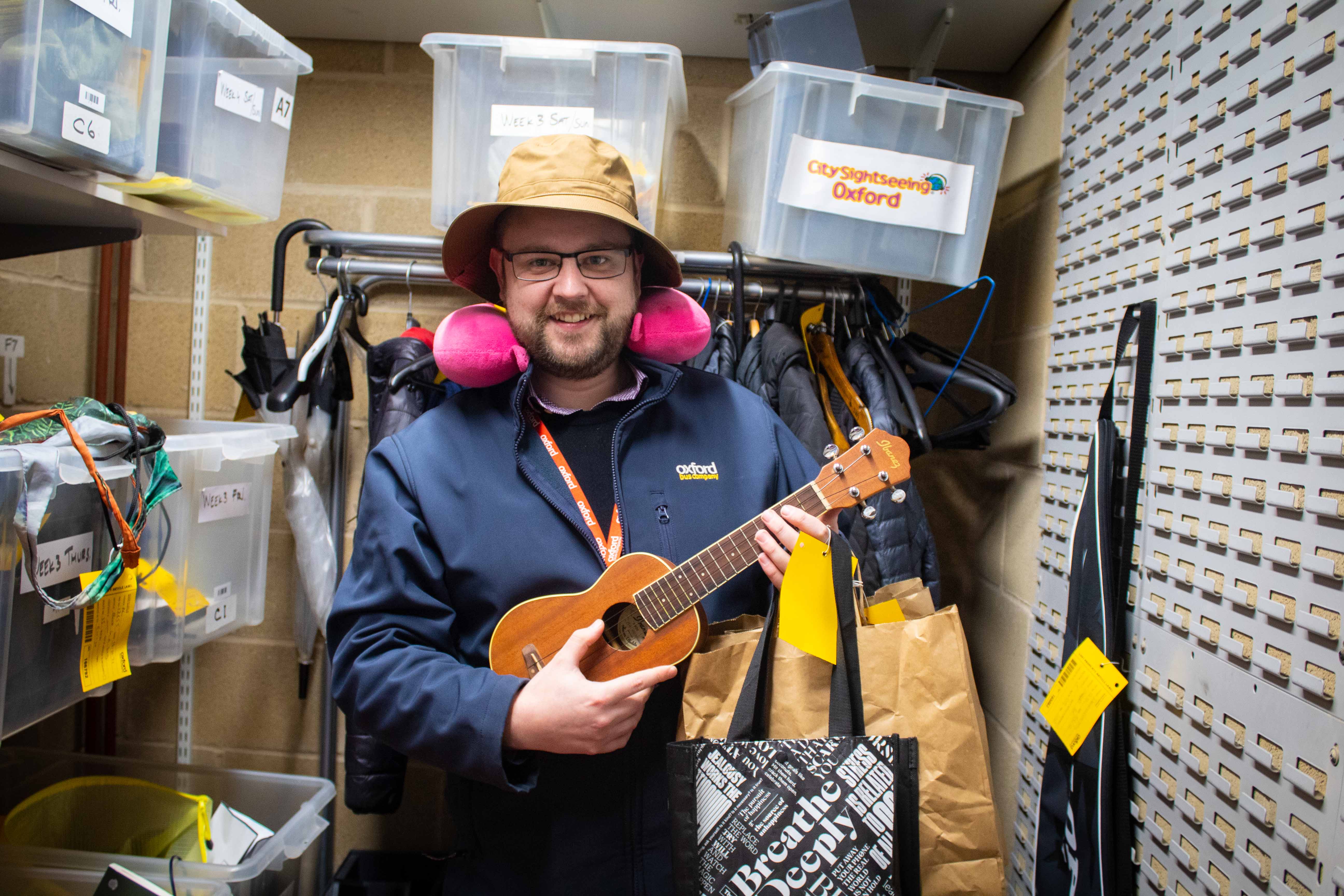 The Oxford Bus Company has revealed the unusual items which were left on its services by passengers last year.
Among the belongings left on buses and coaches in 2021 were some Ann Summers lingerie, a coffin shaped wallet, an NYPD hat, a vehicle registration plate, a guitar and a large toy sword. The most common items left on vehicles were face masks, mobile phones, umbrellas and shopping.
Staff at the Oxford Bus Company customer services department recorded 1688 items lost in 2021 and 345 items were returned. The volume of lost items was around 10% lower than in 2020.
Oxford Bus Company was the first bus operator in the UK to use new technology to make it easier for passengers to be reunited with their lost belongings. In 2019 it partnered with the innovative NotLost platform so it can digitally log misplaced items quickly and the system helps match them to the rightful owner.
Passengers who reclaim items pay a £1 administration and storage fee for the return of their belongings to help towards costs. There is also a postal service option available for returns. Unrecovered items are donated to local charities, or safely disposed of after a set period of time.
Andy Morison, Head of Customer Experience at Oxford Bus Company said: "We're proud of our record at managing lost property and work hard to help reunite items with their owners. Misplacing a personal item can be a stressful experience and so we use technology to help make it easier for people to get their belongings back.
"We have highlighted some of the unusual items that are left on our buses and coaches as a way to remind people that lost items are kept, so it is always worth checking via our lost property portal on our website."
Oxford Bus Company provides extensive bus routes in Oxford City and Abingdon, luxury coach services to Heathrow and Gatwick Airports, the BROOKESBus service, in partnership with Oxford Brookes University, and the prestigious park&ride service which connects four car parks to the city. Plus, City Sightseeing Oxford the hop-on, the hop-off open topped bus tours of Oxford.
The NotLost platform combines various features including image recognition and powerful search functionality with a simple, intuitive interface, transforming the way lost property is managed.
Oxford Bus Company has previously revealed lost items in recent years which have included a light saber, a fireman's hat, a Soviet Union hat, a letter detailing sexual fantasies and a Donald Trump toilet roll.
The 2022 top ten lost items:
Ann Summers lingerie
Coffin shaped wallet
NYPD hat
Vehicle registration plate
Large toy sword
Guitar
Baby bottle steriliser
Tennis racket
Scooter
Cat collar