Oxford Bus Company launches latest 'Brand the Bus' with Restore
3 months ago Mon 9th May 2022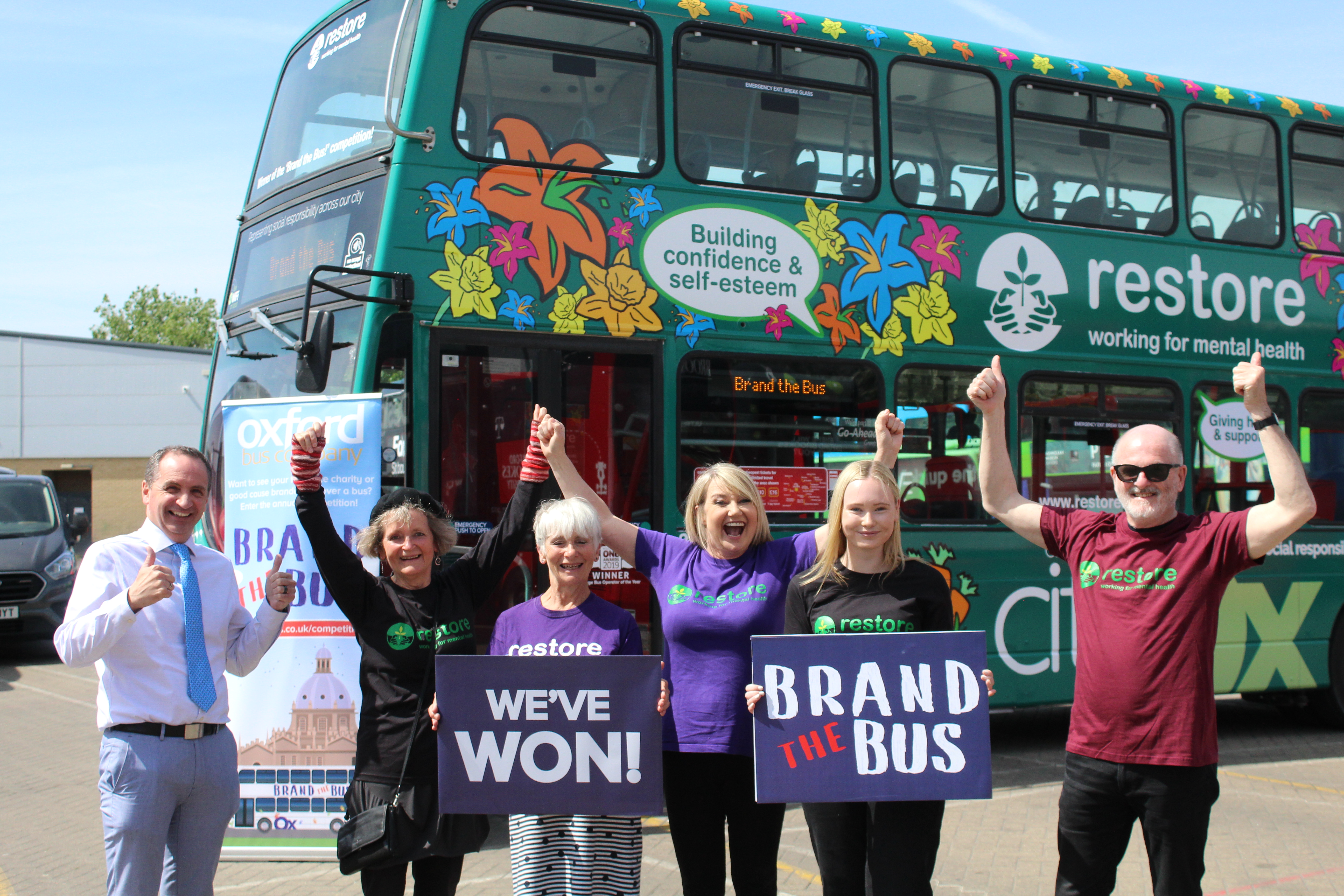 The Oxford Bus Company has launched its latest bus backing local good causes, with a double-decker wrapped in mental health charity Restore's branding.
It has been fully decked out in the colours of the charity after it won the last annual Brand the Bus competition. The eye-catching bus which went into service today to coincide with Mental Health Awareness Week. It will be used across various City services in Oxford to help spread awareness of the charity and its services across the community.
Oxford Bus Company has previously backed Oxford Pride, Oxfordshire Prostate Cancer Support Group, Girl Guiding Oxfordshire, Home-Start Oxfordshire and Blue Skye Thinking with new liveries for buses.
Based on the Cowley Road in Oxford, Restore supports people to take control of their recovery from mental health challenges, develop skills and lead meaningful lives. It offers recovery groups, training and employment coaching to make this possible.
Phil Southall, Oxford Bus Company Managing Director, said: "We're proud to launch another liveried charity bus into our fleet as part of our commitment to supporting good causes in our community.
"Restore is an important local charity that are doing an excellent job in supporting so many people in Oxfordshire. In addition to launching the Restore branded bus we are also planning to further engage with the charity on some joint initiatives to support any colleagues should they require help and to further help our community."
Lesley Dewhurst, Restore CEO, said: "We are excited to see Restore's specially branded bus round the streets of Oxfordshire. It is a great way to mark the start of Mental Health Awareness Week.
"Winning Oxford Bus Company's Brand The Bus competition is giving Restore a fabulous opportunity to showcase our work across the whole of Oxfordshire. The Restore Bus looks amazing and will certainly help us get our messages out there and we are confident that the mental health of Oxfordshire will be improved as a result.
"Not only can the public help us through volunteering, challenging stigma and fundraising - but we also hope to reach out to the whole community to encourage everyone who needs our support to be restored by Restore. A huge thank you from Restore to the Oxford Bus Company and also to the public for voting for us."
Restore was selected by a judging panel from a top ten group of good causes which had earned the most public votes from 23 original entries. Be Free Young Carers won second prize and will receive advertising space on the rear of a bus. The Harwell based charity supports the lives and wellbeing of young carers in Oxfordshire. Maggie's and Read Easy Oxford are also receiving marketing support, including on-board digital advertising screens.