Female Engineering Apprentice learning to maintain Oxford Bus Company's fleet
4 weeks ago Fri 10th Nov 2023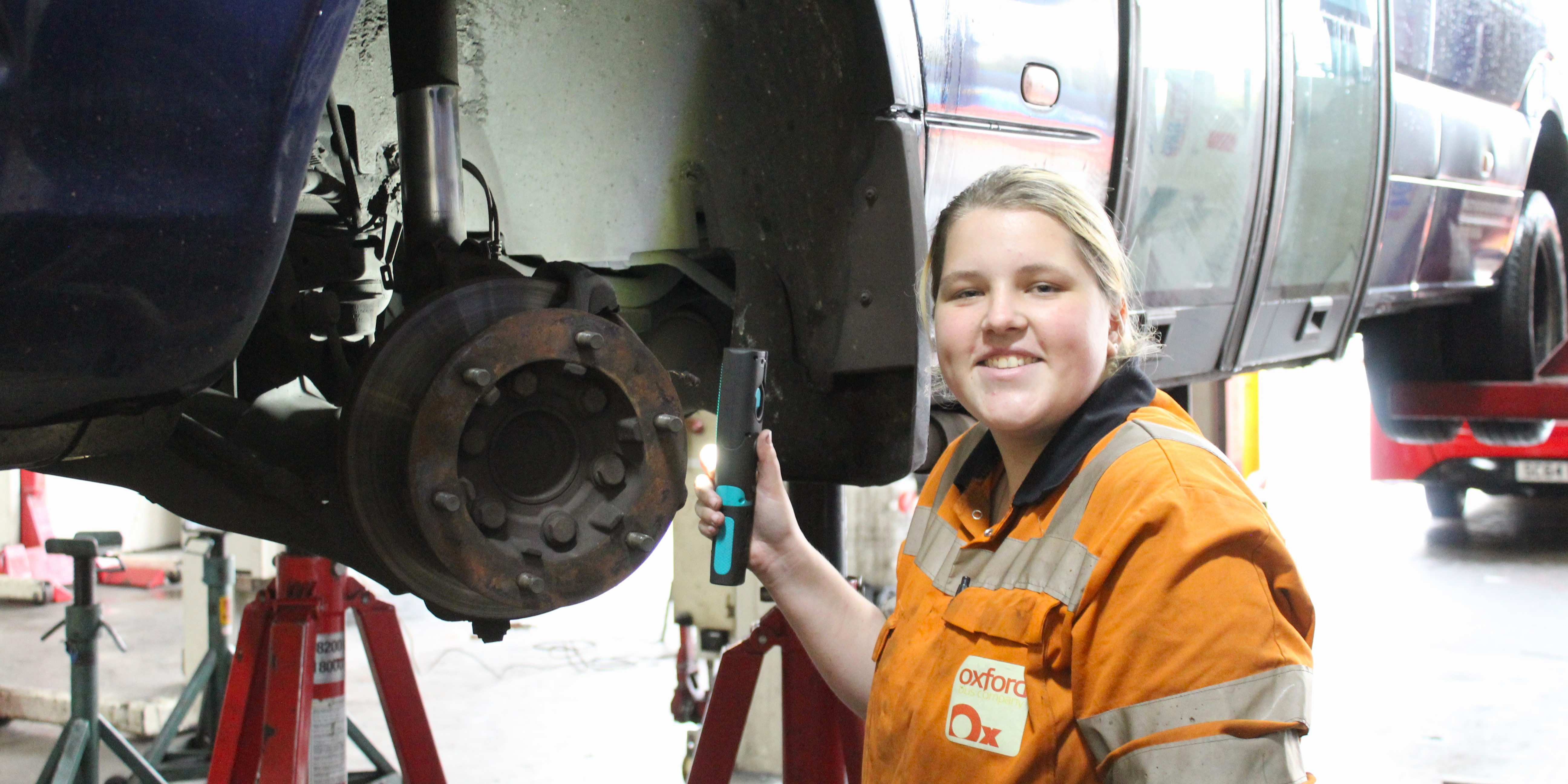 Teenager joins Go-Ahead Group engineering apprenticeship scheme
Apprenticeship offers pathway to begin career in engineering
Oxford Bus Company's Mercedes Goodall encourages young women to apply for careers in bus industry
Teenager Mercedes Goodhall has bucked a national trend by signing up to become an engineering apprentice with Oxford Bus Company.
The bus sector is traditionally a male-dominated industry and less than 20% of engineers in the UK are women. Go-Ahead Group and its operating companies, including Oxford Bus Company, work to encourage more women to join the industry, offering various opportunities to kick-start a career.
Mercedes, 19, grabbed the opportunity to join a three-year apprenticeship at the company's Cowley House depot and now she is encouraging others to follow her path.
She said: "I love engineering, it's so interesting and I'm learning so much on the apprenticeship.
"Many people assume it must be challenging to be a female engineer in a predominantly male environment, but I have had an incredibly positive experience at Oxford Bus Company."
Mercedes developed her passion for engineering at Oxford Academy and gaining a GCSE in the subject, Mercedes continued her studies at City of Oxford College. Her studies gave her the opportunity to have a tour of the Oxford Bus Company depot which inspired her to apply for the apprenticeship after her studies.
The Greater Leys, Oxford, resident has just started her apprenticeship to learn the essential skills to enable her to become a fully qualified bus engineer.
Mercedes said she found the environment "welcoming, friendly and encouraging" from the outset.
"The guys were so welcoming that any nerves I had vanished quickly," said Mercedes.
"I've always got on well with the guys in the depot and I don't feel as though there are barriers to what I can achieve here as a female engineer. I'm glad to be on my current apprenticeship and career-wise, I hope to stay on at Oxford Bus Company in a full-time role.
"I would highly recommend Oxford Bus Company and the bus industry to other young women who are interested in engineering, it's a great working environment where you are judged on your merits."
Luke Marion, Managing Director at Oxford Bus Company, said: "We're proud to be part of Go-Head's initiatives to encourage more women to take up careers in the bus industry.
"Mercedes's story is a wonderful example of opportunities that are available and highlights the progressive approach we take to recruitment and training to create an inclusive and diverse workplace and culture.
"There are so many great careers within the bus industry and I'd encourage people to keep an open-mind and explore what could work for them with our group of businesses.
"Mercedes is thriving on her apprenticeship and we hope she enjoys building a fulfilling career with us for many years to come."
Oxford Bus Company is part of the Oxford Bus Group, which also comprises Thames Travel, Pulhams Coaches and Carousel Buses. It is owned by Go-Ahead Group.
For all the current career opportunities at Oxford Bus Group please visit here: https://www.oxfordbus.co.uk/careers