Bus Drivers complete gruelling challenge for Sobell House
1 month ago Fri 5th Nov 2021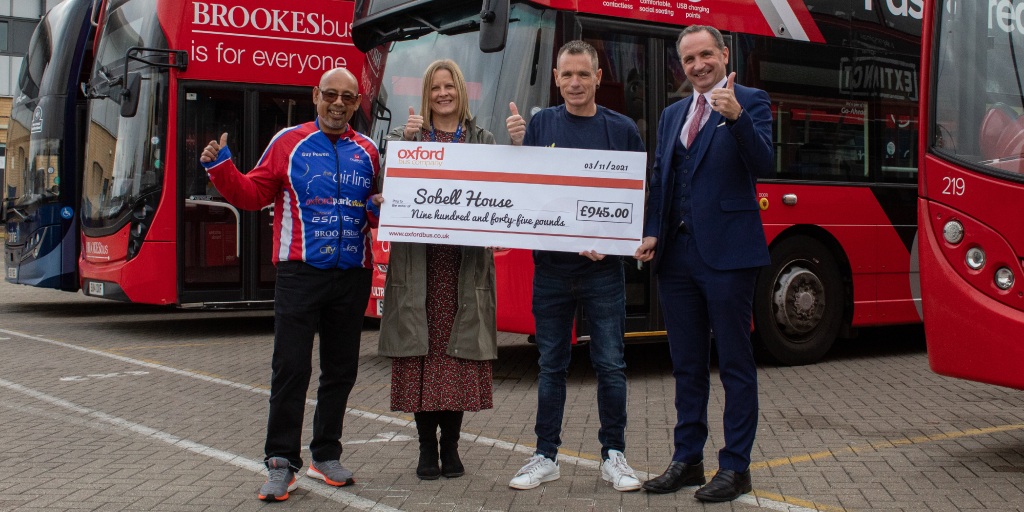 Bus driving duo Mark Temple and Guy Powell swapped their driving cabs for the open road to fundraise for Sobell House.
The Oxford Bus Company drivers cycled, ran and walked a huge 54 miles from Warwick Castle to Oxford Castle in support of the hospice.
And as if that wasn't enough, they then completed a half marathon around the usual Oxford half marathon course after arriving in Oxford. The charity fundraisers were joined by colleagues on parts of the route who ran, walked or cycled shorter distances to also help the fundraising effort.
The gruelling activity raised £945 for the charity, which will be match-funded by Oxford Bus Company to take the total to a fantastic £1890. Oxford Bus Company pledged to support the campaign as part of its commitment to the charity as members of the Sobell House 40 Club.
Mark decided to raise funds for Sobell House because his father plus his wife's grandmother passed away there. It comes after he completed 50 marathons in a year between May 2018 and May 2019 in between his driving shifts raising nearly £5,000 for the charity.
Mark and Guy joined Oxford Bus Company Managing Director Phil Southall this week to hand over a cheque to Sobell House.
Based at the Churchill Hospital the charity is jointly funded by the NHS and Sobell House Hospice Charity. It offers specialist palliative care to those facing life threatening illness, death and bereavement in Oxfordshire.
Phil Southall said: "Congratulations to Mark and Guy and all our colleagues who supported them on a fantastic achievement in support of a vital local charity. This was an ambitious challenge which they completed with great spirit and commitment. As a company with strong community values, we were proud to be able to provide match-funding to support the charity's work."
Pictured are: Guy Powell, Niki Yerburgh (Sobell House), Mark Temple and Phil Southall.