Brand the Bus! Returns revamped to help more good causes
1 month ago Fri 1st Jul 2022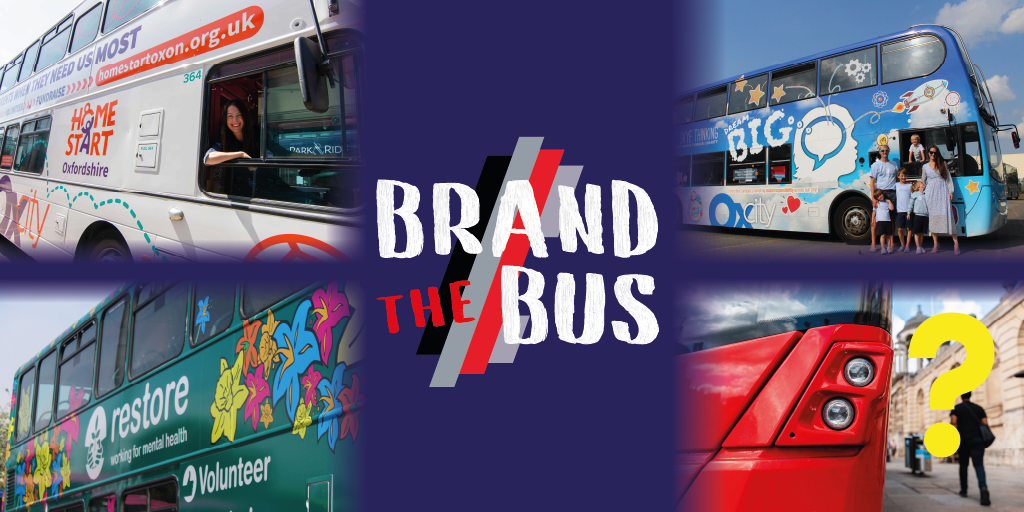 •Competition winner receives £30,000 of advertising, including a branded bus
•Refreshed format makes it easier for good causes to enter
•Competition helps local charities and good causes raise awareness of what they do
Oxford Bus Company today launched its annual Brand the Bus! 2023 competition for a local charity or good cause to have its branding on a double decker.
And to make the giving back competition more accessible to good causes it has changed the format to make it easier to enter. It is the fifth year running Oxford Bus Company has run the competition as part of its community values. The winner will receive a package worth £30,000 which includes having a double decker bus branded, and digital screen advertising on board the vehicles.
This year all entrants need to do to enter is tell Oxford Bus Company about their cause and what having a branded bus would mean to their organization, by completing a simple entry form online. It replaces good causes having to produce videos or create PDF presentations to enter.
The 10 entries for 2023 that are deemed best according to a public vote will be shortlisted and examined by a judging panel. Girl Guiding Oxfordshire won the inaugural 2019 Brand the Bus! competition, Home-Start Oxford scooped first place in 2020 and Blue Skye Thinking won the 2021 contest. Abingdon Riding for the Disabled Association was also awarded the space on a bus rear as runners up in the 2021 competition. This year mental health charity Restore won first prize and Be Free Young Carers came second.
Luke Marion, Oxford Bus Company Interim Managing Director said: "We have listened to feedback and refreshed our Brand the Bus competition to make it much easier for organisations to enter. This should make it more accessible to more charities and good causes and ensure the opportunity is open to even more deserving groups.
"Brand the Bus has become a big part of our community and is a fantastic way for us to give back and support excellent good causes. It is an effective way for good causes to raise their profile in Oxford. There are so many good causes in the county and we're looking forward to seeing all the entries come in."
Prizes will be awarded to the competitors who have, in the panel's opinion, fulfilled the brief to the highest standard. The winning organisation will be invited to work with the Oxford Bus Company to design a bus wrap featuring the brand colours, logo, and messages of the good cause. Runners-up will receive support via digital on-board bus advertising worth £2,000 to the runner up and £1,000 to the second runner up.
The deadline for Brand the Bus entries 1st October and public voting closes on 1st November.
For more details and to enter please visit here: https://www.oxfordbus.co.uk/brand-bus