View the Gallery

Not sure who's entered the 'Brand the Bus!' competition?
Make sure you visit this page regularly, and check out the gallery of entries below - then when voting opens, make sure to vote for your favourite!
The 10 entries who receive the most votes from members of the public will be shortlisted. A final winner will then be selected by a panel of judges. We'll announce the winner and work with them to design their bus in early 2024.
Are you a charity or good cause that would like to enter the competition? Click the button below and enter before 23:59 on 8th January 2024!

Entries

Submitted by: Beth Marsh
About Sobell House Hospice Charity
Every year Sobell House Hospice cares for over 4,000 patients and their families across Oxfordshire. We care for patients with life-limiting illnesses at home, in the local hospitals and here at the hospice. Our services are free to use, but we rely on fundraising and donations to keep them going.

Our care has been described as a 'big, warm hug' and we help people to feel like themselves again, not just a patient, by supporting them with their medical, social, emotional, practical and spiritual needs.

Our focus is on making every moment matter. By providing our patients with a better quality of life, we hope to give them more time making precious memories with loved ones, and enjoying daily life. We support people to live their final days as they choose to, and give them the gift of a peaceful and dignified death, surrounded by their loved ones.
Website: sobellhouse.org
What would branding a bus mean to your organisation?
The need for our services is growing and last year we saw a 10% increase in the number of patients we cared for. We expect the demand on our services to continue to grow, which is why it has never been a more important time for us to fundraise, so we can be here for everyone who needs us.

To help us raise more funds, both now and in the future, we are organising OxTrail, a high-profile, colourful, and community-focused art sculpture trail! In summer 2024, Oxfordshire will be home to a herd of life-sized and mini oxen. Each sculpture will be individually designed by artists, local schools, and community groups, making the herd truly unique. The vibrant, free, and family-friendly trail will encourage thousands to be tourists in their own city, and attract national and international visitors. Following the eight-week trail, the life-sized oxen will go under the hammer at a grand auction. The lucky new owners will then take their moo-gnificent ox to its forever home.

Through OxTrail, we aim to raise awareness of Sobell House and the crucial work we do in the Oxfordshire community, as well as raising vital funds through sponsorship, fundraising, donations, and the grand auction. Being able to promote this ox-citing event through a branded bus would be a fantastic opportunity, and a fabulous vibrant design is sure to make residents and visitors smile as they see Oxley, our hero ox, riding across the county! The promotion would help us to maximise the impact and fundraising of OxTrail in order to be able to support the growing number of people that need our care.

Submitted by: Emily Byrne
About SSNAP
In the UK, 1 in 10 babies need specialist care at birth. SSNAP supports sick & premature babies and their families in the Newborn Care Unit at the John Radcliffe Hospital.

Imagine your newborn baby needing specialist care at birth. Instead of those very special days getting to know your baby as a family, you're catapulted into an unfamiliar world of incubators, wires, medical tests and interventions.

While your baby has specialist treatment, we provide emotional and practical support to help you through the trauma & upheaval. We're there to help families cope, and provide state-of-the-art medical equipment and nursing expertise that could save babies' lives.
Website: www.ssnap.org.uk
What would branding a bus mean to your organisation?
SSNAP does not receive any statutory funding. Everything that we receive to run the charity is through the generosity of fundraisers and individual donors.

We have a team of 200 amazing runners that take on the Oxford Half Marathon each year, these incredible people raise around a third of what our charity needs to bring in each year. With this in mind, for every penny SSNAP spends we pause and think "would our fundraisers approve of this purchase?" Of course we know they would want their money to be spent on ensuring our family care team cover the unit 365 days a year, they'd want us to purchase a much needed twin cot, or a state of the art piece of medical equipment. We do not spend money on advertising. Having SSNAP displayed on a bus is something we could only imagine, we would love to share SSNAP's name with people, spread the word of what we do and encourage more people to join our fundraising events.

Submitted by: Jess Jenkins
About Alzheimer's Research UK
Almost one million people are living with dementia today. Tragically, not one of them will survive. If nothing changes, one in two of us will be directly affected by dementia - either by caring for someone with the condition, developing it ourselves, or both.

Alzheimer's Research UK exists to change that.

As the UK's leading dementia research charity, we are working to revolutionise the way we treat, diagnose and prevent dementia. And then, we will find a way to cure it.

To do this, we're investing in the best research, powering the most forward-thinking scientists and joining forces with world-class organisations.

With your support, we promise we will not stop until dementia can no longer destroy lives, we will change people's endings.

We are Alzheimer's Research UK. We exist for a cure.
Website: www.alzheimersresearchuk.org
What would branding a bus mean to your organisation?
Being able to brand a bus would be an amazing opportunity for Alzheimer's Research UK. To have our powerful messaging of "Alzheimer's Research UK – For A Cure" to be driven around Oxford in front of millions of people would be absolutely priceless.

There are currently no treatments available in the UK to slow, stop or prevent the devastation of dementia and by 2030, dementia will be the most expensive health condition in the UK, costing £30 billion a year. There are almost 1 million people living with dementia in the UK and by 2050, the number of people living with dementia is expected to increase to 1.6 million, which is more than any other health condition.

Research into the diseases that cause Dementia is hugely underfunded, for every four scientists working on cancer treatments there is only one working on Dementia. There is a lot of misunderstanding in the public about Dementia with only 6 in 10 people knowing that dementia causes death and not enough people knowing that they can easily reduce their risk of developing Dementia (by up to 40%) by making some simple changes to their lifestyles.

Our message is that Dementia is not an inevitable part of getting older, it is caused by diseases and diseases can be cured by scientific research.

It is a really exciting time in Dementia Research as, for the first time, there are treatments on the horizon and to raise awareness of Alzheimer's Research UK via a branded bus would open so many doors. It would help us to raise money, educate and help future generations not have to go through the heartbreak and harm that dementia causes.

We exist for a cure.

Submitted by: Margaret Hart
About MyVision Oxfordshire
There are 24,000 people living with sight loss in Oxfordshire.*

Only 17% of people diagnosed with sight loss in adulthood have been offered emotional support.**

Only 20% of visually impaired people aged over 75 have been offered practical advice on day-to-day tasks.**

31% of blind or visually impaired people are rarely or never optimistic about the future.**

It doesn't have to be this way. MyVision Oxfordshire is the county charity providing sight loss-specific support, advice, and guidance so that local visually impaired people can regain their confidence and independence. Vote for us to support adults and children living with sight loss across Oxfordshire.

"MyVision has become a permanent part of my life and I am so thankful for all the staff and volunteers who maybe don't realise how life-changing the charity and its local groups can be".

*RNIB Sight Loss Data Tool Version 5.0
**RNIB My Voice, 2015.
Website: www.myvision.org.uk
What would branding a bus mean to your organisation?
We are determined to reach more people across Oxfordshire. We are conscious that there are people across the county who may not be aware of our services. Many blind and visually impaired people do not use the internet, information is not always accessible, and so it's harder for them to discover what support is out there. Branding a bus would mean we can reach these people and their loved ones, so that they know we exist and can discover what we offer and how they can benefit. We are keen to develop our community outreach across Oxfordshire, and this would be the perfect way to do so.

Submitted by: Cherie Cook
About Sue Ryder
We are a palliative care charity based all over the country. Additionally, we run a bereavement service and have hospices around the UK.
Website: www.sueryder.org
What would branding a bus mean to your organisation?
To raise awareness of the charity and what we offer. The bereavement charity is fairly new and it would be great to see this advertised to spread awareness.

Submitted by: Dr Saman Jamshidifard
About HeartyEarth
We are an umbrella name and group of non-entity community initiatives focused on #lovefoodhatewaste, #sharethelove, #aspire2inspire, and currently have 200 ambassadors across the 4 initiatives. 💚🌍
Website: www.facebook.com/heartyearth
What would branding a bus mean to your organisation?
It would mean exposure to entire Oxford rather than just West Oxford. We'd like all of Oxford to know about us and what we do but we're not an entity, have no financial dealings donations or bank accounts so this would be amazing to publicise us. Additionally, we'd love for all your drivers to be Community Ambassadors and wear the HeartyEarth badge 🥰

Submitted by: Hannah Dunning
About Flexicare
For over 39 years Flexicare has been providing a specialised sitting service for families with a severely disabled child (or children) living in the Oxford, Abingdon and Wantage areas of Oxfordshire. Care is provided in a family's home by a small core of experienced staff and a team of trained volunteers.
Website: www.flexicare.org
What would branding a bus mean to your organisation?
Flexicare needs volunteers and funds to continue to support the community this would be an opportunity to seek local support.

Submitted by: Alexandra Freeman
About Wild Oxfordshire
Wild Oxfordshire brings people, communities, organisations and businesses together to restore and protect Oxfordshire's natural assets for the benefit of all. They help protect urban green spaces and wildlife such as Oxford's centuries-old floodplain meadows, and helping residents build hedgehog highways and plant flowers to feed pollinating insects. They work with farmers and volunteers, for example, to help endangered curlews by fencing their nests in the spring to protect them from predators. They work with parish councils, such as Kidlington, to bring communities together around nature for the benefit of all.
Website: www.wildoxfordshire.org.uk
What would branding a bus mean to your organisation?
Not as many people know about Wild Oxfordshire as should! Imagine how beautiful an electric bus would look covered with images of the wonderful Oxfordshire scenery and wildlife like our swifts, curlews and yellow wagtails.
It's a charity that has much to offer people - donations are greatly welcomed, of course, but Wild Oxfordshire can also help everyone. Its website has advice for people who want to garden for nature, companies that want to support the environment, policy-makers who want to know how they can best plan for the future. There are events and walks where people can get out and get benefit from our green spaces. Branding the bus would help everyone learn more about, and get more out of, the wild spaces directly around them.
I think an electric Oxfordshire bus and Wild Oxfordshire are a perfect match.

Submitted by: Maxime Bonnavion
About Richmond Fellowship
Richmond Fellowship is dedicated to mental health and well-being. With a mission to support individuals experiencing mental health challenges, Richmond Fellowship provides a range of services to promote recovery and social inclusion. With a person-centered approach, the organization focuses on empowering individuals to regain control over their lives.
The organization offers a diverse set of programs, including counseling, vocational training, and community integration initiatives. Through a team of skilled professionals and volunteers, Richmond Fellowship creates a supportive environment that fosters personal growth and resilience. By emphasizing the importance of holistic well-being, the organization contributes to breaking down the stigma associated with mental health.
Richmond Fellowship also actively engages in advocacy and community outreach to raise awareness and promote understanding of mental health issues. Through partnerships with local communities and stakeholders, the organization works towards building a society that values and supports the mental health of every individual.
Website: www.richmondfellowship.org.uk
What would branding a bus mean to your organisation?
Branding a bus in the name of Richmond Fellowship would allow for more people to be aware of mental health and how this plays a massive part in the lives of certain individuals. Creating more awareness around this subject would mean that more funding would be received, therefore helping support those in need.
Mental health in adults is paramount for overall well-being and functioning. Mental health directly influences one's cognitive, emotional, and social capacities, impacting daily life and relationships. Addressing mental health concerns helps individuals cope with stress, navigate challenges, and maintain a positive outlook. Neglecting mental health can lead to a range of issues, from decreased productivity to strained relationships and more severe mental health disorders. Recognizing the significance of mental well-being in adults is crucial for fostering resilience, promoting healthy lifestyles, and ensuring a higher quality of life. Investing in mental health positively contributes to personal fulfilment and societal welfare. Moreover, if more people are exposed to this, this will allow individuals to recognise early signs of mental health decline and how to work with, or who to contact.

Mental health - especially within adults - is being recognised more and more, but having this charity branded on the bus would mean a lot more recognition and support could be provided. Increased acknowledgment of adult mental health holds immense benefits. Recognizing and addressing mental health concerns promotes healthier relationships, enhances productivity, and reduces the stigma surrounding mental well-being. Improved mental health support contributes to a more resilient and compassionate society, fostering understanding and empathy. By prioritizing mental health, adults can experience better overall quality of life, reduced stress, and increased fulfillment in personal and professional spheres.

Submitted by: Tamora Burford
About The Unicorn School
For over 30 years The Unicorn School has supported students with various forms of neurodiversity, including dyslexia, dyspraxia, autism and associated learning differences.

Many of our students also struggle with anxiety and other mental health challenges. Mainstream education is not currently able to support this range of needs, and without the support that we provide, most of our students would be at risk of dropping out of education entirely.

"The Unicorn School has created a caring and nurturing environment. My son feels safe and inspired and wants to go to school!" Unicorn Parent.
Website: www.unicornoxford.co.uk
What would branding a bus mean to your organisation?
Last year we received over 350 enquiries for only 20 available places at our school. To help meet this demand, our vision is to grow the school – doubling in size over the next three years – so that we can support an extra 120 children and young people with learning differences across Oxfordshire.

As a small charity and school, this won't be possible without support. A Unicorn branded bus would help us to achieve our vision. It will raise awareness of the life changing work we do supporting children and young people with specific learning differences, as well as their families.

With the support of the Oxford Bus Company, we can reach so many more people; letting them know about the support we offer, and equally asking for their support in helping us to grow.

Submitted by: Shelby Stapleton
About Aspire Oxfordshire
Aspire Oxfordshire is an employment and housing charity working to empower people to rebuild their lives, futures and realise their potential, by providing person-centred employment, enterprise development, housing and social inclusion opportunities since 2001. This support is available to a wide range of local people including adults with experience - or at risk - of homelessness, people in recovery, young people out of education, training or employment for over 6 months, prison leavers and refugees.
Our aim is to provide impactful support to people experiencing difficulty grounded in evidence, sustainability, and prevention, through a 'hand up, not a hand out' approach that promotes self-confidence, resilience, personal responsibility and positive lifestyles, challenging prejudice and inequality in the process.
In 2022-23, Aspire responded to over 1,800 support referrals across Oxfordshire and the wider Thames Valley. More information about our impact can be found in the Aspire annual social impact reports.
Website: www.aspireoxfordshire.org
What would branding a bus mean to your organisation?
In today's challenging and uncertain climate exacerbated by the enduring cost of living and housing crises and increasing inequality, Aspire's work as an enterprising charity embedded in the community has never felt more vital.
In 2022-23, we supported:
1800+ people into employment, housing and opportunities to develop new skills
300+ people to navigate the threat of homelessness and access safe, secure housing
100+ members of the community starting new jobs, building careers and earning money
90+ individuals into new tenancies within Aspire's housing projects
Our work includes the projects we're undertaking backed by our latest appeal, Action Inspires Hope (www.aspireoxfordshire.org/Appeal/action-inspires-hope) to tackle two of Oxfordshire's most pressing issues - a lack of accessible, affordable housing, and a shortage of workers in the county's job market. These, in turn, are contributing to overcrowding, negative effects on people's ambitions, relationships, job prospects and mental health, the number of people renting privately, experiencing eviction and homelessness, and the hindrance of local business from hiring, growing and supporting the local economy.
This branding opportunity would help Aspire significantly, to boost community awareness of our social mission as a charity, the support services we offer, how we are available to help and how we can be contacted. This is crucial for individuals in need who don't know where to turn for help, and for family, friends and peers who may be worried about someone and wondering which options are out there to help them. This improved awareness would also be incredibly valuable for individuals and organisations in the community with the capacity to provide support to Aspire through donations to our appeal, partnership working and volunteering with us.

Submitted by: Ryan Thompson
About Maggie's Oxford
Maggie's is a warm and welcoming space available for people affected by cancer to use for cancer support. Our Oxford Maggie's centre provides free practical, psychological, and emotional support to anyone with cancer or their families. Everyone is welcome in Maggie's with no appointment needed.

Our beautiful treehouse building provides a calming space and a chance to just come in and receive one-to-one cancer support. Our professional cancer support specialists, clinical psychologists and benefits advisor offer their extensive knowledge in their specialist fields to ensure everyone gets the best free support available. There are groups and workshops which are specifically tailored to different types of cancer, and they are led by skilled trained NHS staff members who have developed the sessions towards the Maggie's visitor's needs.
Website: www.maggies.org/our-centres/maggies-oxford
What would branding a bus mean to your organisation?
Winning would mean so much to Maggie's Oxford. We see first-hand every day the importance of providing spaces where people going through the toughest of times of their lives, feel safe and able to fully express their emotions.

Branding a bus with information about Maggie's would be incredibly valuable to people who do not know that free cancer support is available to them. It would increase the amount of people who would come into Maggie's and seek support.

Located next to the Churchill Hospital in Headington, we currently receive around 50 visitors a day, 12,500 annually, but considering 50% of the population will at some point in their life be on a journey with cancer we know this could be much higher. By increasing brand awareness through this competition, we know that we can support so many more families and people in Oxfordshire, Berkshire and Buckinghamshire who feel like they have nowhere to turn.

To let someone know that Maggie's services are there for them, people will feel listened to and respected which in turn will make them feel less stressed and anxious. As Maggie's is not known to everyone, it is important to spread the word, and we'd love to have your help in doing that.

Submitted by: Emily Connally
About Waste Innovation Station
Waste Innovation Station is a climate action partnership like no other, with over 30 organisations building climate resilience through education, distributing surplus, re-wilding nature, helping people grow food, and waste reduction innovation. Headquarters (WISH) events since January 2022 have seen over 30,000 in footfall in Kidlington. Feedback from our visitors inspired a permanent WISH climate action museum: a space designed to provide accessible outreach and transparency around the Carbon Cost of our decisions and lifestyles (open Mondays-Fridays 9am - 5pm). WISH use quizzes and interactive displays to help visitors understand what easy, small steps we can all take together for big environmental wins. Exhibits also include repurposed items, our WISH-made creations crafted from waste plastics, textiles, musical equipment, tutorials and more. WISH hopes visitors are inspired to join them in innovating on site in the workshop, or even just by popping in to use the boardroom and communal working space.
Website: www.cherwellcollective.com/about-us/waste-innovation-station
What would branding a bus mean to your organisation?
WISH will be coming your way soon, with hubs planned for each of the Oxfordshire districts by the end of the next five years. It would be brilliant for a bus company that sets the pace in lowering emissions and sustainable travel to also support a local partnership helping individuals make more sustainable choices in daily life. The most common concern our community members express is not knowing what decisions are the 'right' choices when it comes to living greener, not sure what traders to trust or what news to believe. WISH helps people make that choice and to support people to make choices that still let them live their best life. We think there's a serious gap in practical support for individuals and businesses, and we offer that support. Having the branding on a bus might help other people find the support they need to live more sustainably in a way that is affordable and accessible, and where they can meet thousands of others doing the same thing.

Submitted by: Charlotte Burke
About Be Free Young Carers
Be Free Young Carers is the only independent charity in Oxfordshire working exclusively with young carers. We support them by widening their life options and improving their emotional and social health, resilience and development because we passionately believe they can be free to fulfil their adult potential unhindered by their childhood responsibilities.

We have been operating for nearly 30 years throughout South Oxfordshire, the Vale of White Horse Districts and Oxford City.

We offer support and are dedicated to improving the lives of young carers. We are currently the only specialist charity supporting children aged 8 – 17 years old with a caring role in Oxfordshire.

We provide advice, offer befriending and peer support, enabling young carers to meet, socialise and have fun, increasing their self-confidence and improving their mental well-being. We work with local schools to educate and offer guidance from referrals to respite opportunities.
Website: befreeyc.org.uk
What would branding a bus mean to your organisation?
There are now estimated to be at least 1 million young carers in the UK, however only 20% of them have been identified.

That means there are 800,000 young carers currently receiving no support caring for their loved ones, equal to almost 3 children in every classroom with unknown caring responsibilities.

In Oxfordshire, there are estimated to be 12,000 young carers, our charity is currently supporting over 550 young carers. We cannot stress enough the lack of support there is out there for young carers. Even with all the policies, acts and organisations in place, more needs to be done. Awareness is key to informing, educating and increasing support, we believe young carers should have the right to be children and have a childhood as much as any other child.

We are a small, not-for-profit charity that receives no government funding. Compared to other small charities in Oxfordshire, our work runs solely on successful grant applications, funding and donations. Despite the financial challenges we face, we have continued to grow and in 2024, we set to expand into West Oxfordshire. This move that would be maximised to its full potential with the £40,000 advertising package award if we were successful in winning 'Brand The Bus'. Not only would this create more opportunities for our present and new communities to know more about us, but in turn would generate more referrals for support and as a result more children will receive the help they desperately need.

Next year our charity will also be celebrating our 30th anniversary, a pivotal moment in our charity's history. It would be fantastic to have the opportunity to be supported by Oxford Bus Company during a period in which our awareness and support for young carers in Oxfordshire will reach an historic milestone.

Submitted by: Emma Darlington
About Crisis Skylight Oxford
Crisis is the national charity for homeless people operating across local communities in England, Wales and Scotland. We are committed to ending homelessness; person by person, policy by policy, place by place. Locally, across the City and Oxfordshire, Crisis Skylight Oxford provides people with a permanent route out of homelessness. Incorporating a holistic model of change, we support people with health and well-being, financial security and personal and social networks, as well as helping to improve housing situations, supporting people to end their homelessness.
Website: www.crisis.org.uk
What would branding a bus mean to your organisation?
Due to the cost of living we are seeing twice the amount of people we once saw come through our doors. These are people who have never experienced or faced being homeless before and in particular we are seeing a rise in families needing our support. We want to help raise awareness around Oxfordshire to highlight the housing crisis as well as the cost of living impact. Crisis receives very little funding from the Government, and depends on the money raised from individuals, companies and charitable trusts. Even finding houses and landlords that are happy to house our members is becoming harder and harder each day as the Government have not increased benefits or provided more resources for people at risk of being homeless.
Everyone who comes to Crisis Oxford has a different set of circumstances and faces different challenges along their journey. What makes our service here so unique is that people who come to Crisis can work collaboratively and at their own pace with a dedicated progression coach to identify their needs, hopes and aspirations. They provide advice and guidance as well as empowering members, building their self-esteem and self-confidence to work towards personal goals, and find pathways into further education, volunteering and employment.
Our 'housing led' approach also aims to move members into their own homes as quickly as possible in order to minimise the amount of time spent in temporary accommodation and multiple transitions. A home is not just a physical space, it provides roots, identity, security, a sense of belonging and a place of emotional wellbeing. Which is why at our Oxford Skylight we are working hard and collaborating with others to makes changes to the way the system currently works.

Submitted by: Lisa Hanton
About Style Acre
Style Acre supports over 270 adults with learning disabilities and autism across Oxfordshire to grow and develop in their own way and with the utmost dignity. We embrace individuality and deliver person-centered care of the highest standard, creating communities where people with learning disabilities and autism are valued as equals and given every opportunity to fulfil their potential.
Support ranges from 24-hour care for those with complex learning, health and/or physical disabilities, to a few hours support per week for those who live more independently. People Style Acre support are given the freedom and independence to live with peers within our communities in a supported environment through 35 supported living households. They can attend vibrant community hubs, Turnstyle in Wallingford, T2 in Didcot and SABRe in Banbury to develop life skills, make friends, have fun and to develop their independence. As well as earning money and developing new skills, people increase their self-confidence, communication skills and enjoy being a valued member of a team and their local community.
Website: styleacre.org.uk
What would branding a bus mean to your organisation?
To have a branded bus would allow us to showcase the work that we do and provide much needed awareness across the county. It would promote the impact we have on peoples lives and the opportunities we are able to give them to the wider community and also to potential supporters. We rely on funding for our work and garden project that provides volunteer and employment opportunities to the people we support, and engaging local organisations will have a huge impact. It will also promote the services we provide to families who may not know of Style Acre who are looking for support and help with their loved ones.

It would be a fantastic opportunity for the people we support with learning disabilities and autism to get involved, they could work alongside the branding company and help with the designs. Giving them a chance to express what Style Acre means to them and to learn new skills. The people we support would be so proud to be part of such a great opportunity to inform those in Oxfordshire of the work we do and the opportunities that we are able to give them.

Submitted by: Liz Knight
About Oxfordshire Parent Carers Forum
There are over 26,000 parent carers of children and young people with special educational needs and disabilities (SEND) across Oxfordshire and we help make sure their voices are heard. We provide opportunities for parent carers in Oxfordshire to work with the Council and local health service to make services better, with the aim of improving outcomes for children and young people with SEND and their families.

We are a group of parents who know what it means to have a child with SEND. Our children have a wide range of needs, from mild to severe, including physical disabilities. Some have 'hidden' impairments, like mental health issues, ADHD and dyslexia, whilst others complex needs, or no firm diagnosis

We are members of NNPCF (National Network of Parent Carer Forms) which is supported by the organisation Contact. We are kindly hosted and supported by OxFSN (Oxfordshire Family Support Network).
Website: www.oxpcf.org.uk
What would branding a bus mean to your organisation?
We want to reach a diverse group of parent carers of children and young people with special educational needs and disabilities (SEND) so they can help to shape vital services for children in Oxfordshire. Our commitment and drive are to ensure families in Oxfordshire have their voices heard.

Parent carers have told us:

"I had to give up my job as a medical professional that looks after children in need, to look after my child who has needs!"

"We are a shockingly awful story; I sent an email to the school last week saying the stress and trauma I have endured as a parent is beyond anything that is humanly acceptable"

Recently, we have:
Gathered feedback and published reports on children not in school and child and adolescent
mental health services
Helped improve services for alternative provision, respite care and foster carers
Run the Better Together conference to bring together parent carers and professionals to discuss service change
Hosted polls, online events and coffee mornings
We need more parent carers to work alongside us, with the Council and local health services, to improve services for children and young people with SEND. This includes attending meetings to share the views of parent carers, running coffee mornings and events, moderating our FaceBook group (Oxfordshire SEND room), writing reports on topics that are a priority for parent carers (see our website for recent reports), and working with professionals to embed parent carer views in their work.

Branding a bus would help us to reach the 26,000 parent carers of children with SEND in Oxfordshire to let them know about our work, so we can bring about much needed improvement and lasting change to services for children and young people with SEND in Oxfordshire.

Submitted by: Jack Bishop
About The Oxford Social
This is a new men's mental health community group in Oxford. The aim of our group is to use activities and community meet ups to get men talking about their issues in life.
Facebook: The Oxford Social
What would branding a bus mean to your organisation?
Branding a bus would just take the group to another level as it would literally spread awareness all over Oxford.

Submitted by: Matt Everett
About Oxford United in the Community
Oxfordshire. A Community United.
Oxford United in the Community (OUitC) is the official charity of Oxford United Football Club (OUFC).
We use the power of football across the City and County to inspire happier, healthier and better-connected communities. We run programmes aimed at all ages and backgrounds to inspire the people and communities of Oxfordshire to have positive aspirations for their futures and the health, wellbeing, self-confidence, opportunities and resources to achieve them.
We deliver much more to the community than just football activities. Whilst increasing provision of sports and physical activity has significant health benefits, our wide range of work across education, youth intervention, equality and inclusion has a far bigger impact than just that.
We work closely with other local and national charities to deliver our programmes, and are expanding our reach via grassroots club partnerships to cover the whole County via our 'Hub and Spoke' strategy.
Website: ouitc.org
What would branding a bus mean to your organisation?
Football brings together all parts of society, just like a busy bus!
At OUitC we are on a mission to expand our programmes and increase awareness of our work.
Whilst we have a wide reach through our association with OUFC, generating awareness of our programmes to the people that may need to access them can be more of a challenge.
For example, just like the Oxford Bus Company and Age UK Chatty Bus campaign, we run monthly Manor Club meetings to tackle loneliness and social exclusion, based around chats with current and former OUFC players and staff.
Government data shows almost one quarter (24%) of adults in Oxfordshire experienced feelings of loneliness in the last year, and many of those people may not be supporters of Oxford United, making it difficult to make them aware that these are programmes for all, not just fans of the club.
This is just one of our many programmes. Football is an International language, breaking down barriers and enabling inclusion across society. Our regular disability and refugee sessions demonstrate this, showing no matter what ability you are or language you speak, bring a football and during those sessions everyone is connected.
We believe we are strongly aligned to Oxford Bus Company's values and it would be powerful to partner via Brand the Bus, and enhance the synergy for the benefit of the communities we both serve.
Branding a bus would give us the means to reach more people within the City who would be able to access our programmes, and show everybody that whilst we are the official charity of the County's football club, our impact and work goes way beyond just playing the game.

Submitted by: Frayer Lewis
About Oxford Mutual Aid
OMA is a grassroots organisation that tackles injustices that affect Oxfordshire's residents, such as the cost of living crisis and the daily obstacles resulting from food poverty. Reasons such as job loss, illness, homelessness, debt and more have seen thousands supported by OMA over the years.

We provide food parcels on an emergency and regular basis, with the aim to meet cultural and dietary needs such as vegan and halal and include fresh veg, meat, baby formula, nappies and self care including cleaning products. This year alone we have sent out 9060 parcels to households in need.

We are committed to providing support to households you likely walk past every day. Our support is not means tested which eliminates barriers to people accessing food. Consequently, if you need us, we will be there, regardless of your circumstances.
Website: oxfordmutualaid.org
What would branding a bus mean to your organisation?
Branding the bus will allow OMA to survive. The majority of OMA's work, including packing parcels and delivering goods, is done by volunteers. We only survive due to donations and volunteer commitment from within the community. To put it simply, we can not exist without more ongoing long term support.
Every day the branded buses will drive through communities of people that need our support. Areas of need include: ROSE HILL, JERICHO, BLACKBIRD LEYS, COWLEY, CUTTESLOWE, BARTON, DONNINGTON, HEADINGTON and more. A branded bus will mean that with every bus journey, we will get increased opportunities to receive the funds to continue to put nutritious food and self care items in homes of those suffering in areas across Oxfordshire.
We could help countless more people across Oxfordshire, not just one demographic or category of individuals, something that won't be possible without further ongoing donations. Our capacity for Emergency parcels could be increased by additional exposure which could lead to more funds and could support us to run an even bigger operation resulting in better parcels to more households faster. We are hoping to advertise for donations, resulting in more products that we cannot always have in stock: formula and nappies for babies, more protein and halal meat and reheatable meals for those who are not able to cook.
We hate to say no to any one who needs us. A branded bus would result in more yeses to more households and will help us keep OMA alive and serving its purpose. We can't survive without more financial input and we are working hard to continue to give out the essentials but a branded bus would help carry us more securely into the future.

Submitted by: Kate Titford
About Berkshire, Buckinghamshire & Oxfordshire Wildlife Trust
BBOWT has been a champion for local wildlife since 1959. More than 60 years on, with nature and climate in crisis, our vital work is more important than ever. We all need nature – for clean water, food, fresh air and our own wellbeing - but nature needs us too, urgently.
BBOWT has a bold vision of a wilder Oxfordshire with more nature everywhere – for everyone – in towns and rural areas. Our mission is to bring about nature's recovery by inspiring and empowering local people and partners to help wildlife on our doorstep. To put nature into recovery, we need 30% of all land in our region properly managed for wildlife by 2030. And that's good for our climate, too. By working together, we can create bigger, wilder, more connected landscapes across our three counties, so nature and people can thrive.
Website: www.bbowt.org.uk
What would branding a bus mean to your organisation?
Do you love wildlife, but worry it's disappearing fast? Are you concerned about climate change and worried our children don't have enough access to the outdoors?
This is the vital decade for nature, climate and people. We must raise our ambition and act quickly. If 1 in 4 people acts for nature, we can reach a tipping point for nature's recovery and create more nature everywhere – for everyone.
Our Nature Recovery Fund is aiming to raise £3m in three years to tackle these problems locally head on. The branded bus would help us bring this urgent appeal to a bigger audience and help us reach our target - before it's too late.
BBOWT is in a unique position in our region. We know what the problems are and how to fix them. We have the experience, the specialist staff and an army of volunteers - we just need more green power in our engine and the people of Oxfordshire can be just that.
The potential for positive change right here in Oxfordshire is huge – more floodplains to store flood water and provide homes for wildlife, more nature-filled corridors across the county and more people acting for nature.
With a BBOWT-branded electric bus driving around Oxford, we could encourage more people to join us on this vital journey to a wilder future for all.

Submitted by: Megan Cradock
About Story Museum
Along Pembroke Street a pair of bright blue doors hide entrances to different worlds within. Beyond them, you can step through the wardrobe into Narnia, or tumble down the rabbit hole to Wonderland.

We are a most unusual museum, collecting stories in all their forms: fairytales, books, comics, films, games, and everything in between! Based in Oxford, our museum shares great stories in great ways, bringing them to life in experiential galleries, interactive activities, and multi-sensory experiences, to promote literacy, imagination, confidence, and wellbeing.

The Story Museum's mission is to enrich lives, especially young lives, through stories. We are passionate about the lifelong benefits of growing up rich in stories, and believe these should be available to all children, especially the 28.4% of young people in Oxford who live in poverty with fewer opportunities to access arts activities. We offer bursary places and funded opportunities to increase our accessibility.
Website: https://www.storymuseum.org.uk/
What would branding a bus mean to your organisation?
Branding a bus would help raise awareness of Oxford's best kept secret for families and it would ensure a broader range of people can hear about and access our funded, accessible programmes.
From 2022-2023, 15% of children aged 24 to 30 months were below the expected level in communication skills, a rise from 11% in 2018. The pandemic has severely impacted the development of education, literacy and communication skills, but even before Covid, Oxfordshire ranked joint fifth lowest nationally for the performance of disadvantaged pupils in KS2 SATs. Our work in the community, partnering with schools and family centres, addresses this need, increasing literacy, confidence, and wellbeing in children from 0 to 18.
We offer bursary places for clubs, year-long, fully-funded school partnerships, and Pay What You Can Sundays to increase accessibility in the local community and in disadvantaged schools, and we hold a 'Week of Welcome' in partnership with Asylum Welcome. This 'Brand the Bus' opportunity would allow us to further increase our reach and continue to support those who need it. Stories are for everyone, and here at our museum we try to ensure that everyone can encounter and learn from them in their own way.
"We read books to find out who we are." – Ursula Le Guin
Submitted by: Lara Bonney
About Read Easy Oxford
Over 7% of the working age population in the UK can barely read or cannot read at all. This has a significant impact on their daily lives from shopping to reading letters from their children's school or the doctor.

Read Easy Oxford provide one-to-one coaching to help adults in Oxford and surrounding areas learn to read. We have helped over 50 adults learn to read. The benefits of learning to read are numerous. They include improved confidence, employment prospects, and enabling parents to help with their children's learning.

We are an affiliate organisation of Read Easy UK. Our organisation is totally volunteer run, by local Oxford residents for people in Oxford and surrounding areas.
Website: readeasy.org.uk/groups/oxford-east/
What would branding a bus mean to your organisation?
We need to connect with more adults in Oxfordshire who would benefit from our service. A bus branded with ReadEasy Oxford would help raise our profile to a wider audience, and help us to connect with more readers.

More widely adult literacy is still a taboo subject, with many adults scared to seek help from services like ReadEasy due to stigma. We hope that by raising the profile of ReadEasy Oxford we can raise the profile of adult literacy more widely. This would build upon recent publicity for adult literacy from the BBC Jay Blades documentary.

One of our readers Alice recently finished the programme and had this to say:

"I wanted to be like other people. I found it frustrating not being able to help my children with their school work. Now I enjoy reading. More than anything I want to know I have achieved something in life and to show my kids that you can do anything if you put your mind to it."

'Brand The Bus!' could help us reach more adults just like Alice. Please vote for us and help to raise awareness of our organisation. Thank you.

Submitted by: Emily Evans
About NSPCC Oxfordshire
As part of our fight for every childhood, we work directly with children and families in Oxfordshire. We give support to thousands of adults and young people in need through our Helpline service and Childline.

We work with schools up and down the country through our Speak Out Stay Safe programme, helping children to keep themselves safe.

And our projects such as Together for Childhood help children who've experienced abuse, support parents, and work to transform the way communities come together to prevent child cruelty.
Website: www.nspcc.org.uk/what-is-child-abuse
What would branding a bus mean to your organisation?
The bus branding would give an important presence for NSPCC in Oxfordshire, meaning that children may see the branding and know NSPCC are here to support them when they have no where else to turn. They should know that they are not alone. NSPCC are always available to those children in need.

Submitted by: Jack Talbot
About Lowland Rescue Oxfordshire
Lowland Rescue is a 100% not for profit volunteer organisation.

We support Thames Valley Police in the search of high risk missing people. We also support Oxfordshire Fire and Rescue in flood and water rescue. On top of this we support Oxfordshire County Council with resilience to residence in times of snow/floods/crisis.

We have just celebrated our 15th birthday, and in our time have been deployed to over 800 incidents, equating to well over 20000 hours searching for missing people.

Our charity provides this service to our stakeholders completely free of charge - which means we have to fundraiser for all equipment, vehicles and running costs.

We come under the UK Search and Rescue, which incorporates the RNLI, Coast Guard, Mountain Rescue, Cave Rescue and RAF search and rescue. Although, everyone would have heard of all of these bar Lowland Rescue.

We are based out of Slade Fire Station, although operate anywhere, primarily within Oxfordshire. Some of the time we will get tasked by neighbouring counties in particular Bucks and Berks with whom we form Thames Valley Search and Rescue.
Website: www.oxsar.org.uk
What would branding a bus mean to your organisation?
This would help us to publicise our important work within the community. When we showcase on a public event - only 2 in 10 people know that we exist. We have volunteers on call in Oxfordshire 24/7, 365 days a year. We are trained to a high level of search skills, and have teams who are also highly trained as Drone Operators, K9 Air and Ground scenting handlers, water rescue and have one of the few cadaver search dogs, trained highly to detect deceased bodies. To showcase what we can offer - which in turn will allow us to broadcast our knowledge, expertise and experience to the wider public.

Our teams are highly dedicated, however as search and rescue rarely gets searched or indeed noticed - until the unfortunate event that a family member goes missing, it's very hard to get our presence known across the county.

How will the opportunity to have our branding driven around Oxfordshire support us?

Short term - this will allow us greater understanding and awareness of who we are and what we do

Medium term - allows us to advertise our charity in order to gain more volunteers which in turn generates more assets available to us to search for someone's lost love ones

Long term - helps us give more, be more and do more for our stakeholders, the police, fire service, and local councils.

It is the hope that a partnership with Oxford Bus Company will be the boost our charity needs in order to assist the residents of Oxfordshire to the next level. Allowing us to be the best we can be.

Thank you for your consideration.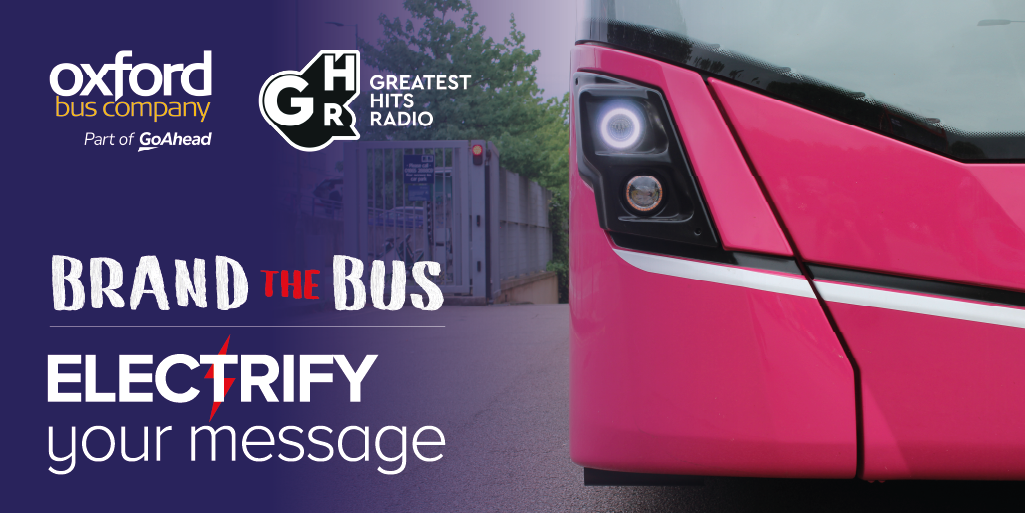 Full terms & conditions for the 'Brand the Bus!' competition can be found here.