Previous winner 2019-2020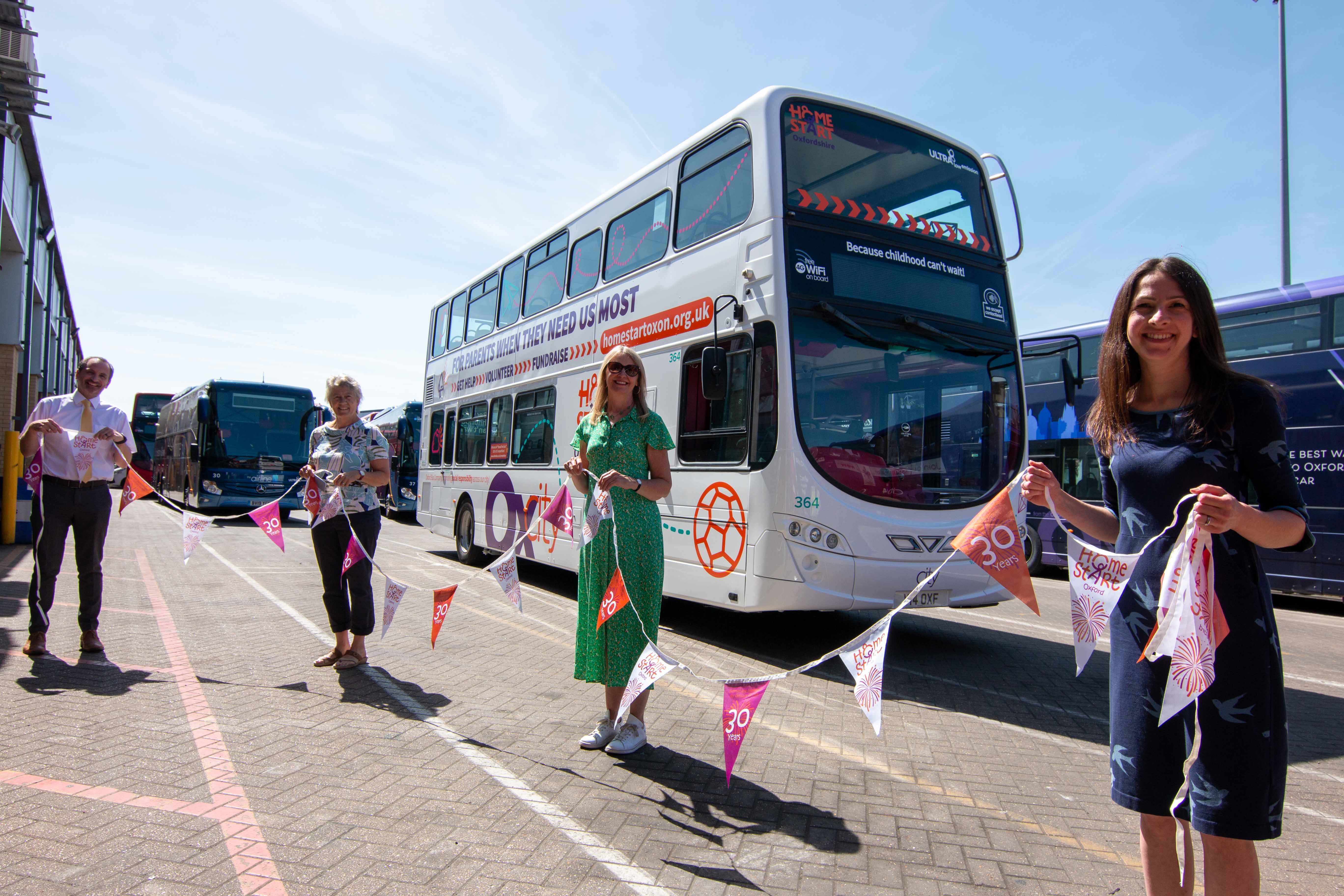 The charity has been invited to work with Oxford Bus Company to design a bus wrap featuring the brand colours, logo and messages of the organisation. It was selected by a judging panel from a top ten group of good causes, which had earned the most public votes from 32 original entries.
Luke Marion, Oxford Bus Company Finance and Commercial Director welcomed the team from Home-Start Oxfordshire to the depot this week to discuss the designs, which are expected to be unveiled later this year.
Home-Start Oxfordshire is a voluntary organisation that provides welfare support to families with at least one child under five years of age. Volunteers offer advice and support in the homes of families who are having difficulties managing parenting for a variety of different reasons.
Oxford Hub and Yellow Submarine were highly commended by the judging panel, which included an external partner. Some 6,130 members of the public voted for the good causes that entered the competition.
Phil Southall, Oxford Bus Company Managing Director, said: "Congratulations to Home-Start Oxfordshire and to everyone who entered. Again, it was a challenging task selecting the overall winner from so many fantastic good causes and high-quality entries.
"Home-Start Oxfordshire won the panel's vote as it demonstrated it is aligned to our five core values. We also felt that as one of the smaller charities that entered it would receive a higher benefit more from our support. Its 'childhood cannot wait' message was particularly powerful, and we look forward to working with Home-Start Oxfordshire to increase awareness of its vital work.
"We're also looking forward to supporting Oxford Hub and Yellow Submarine across 2020. The response to the competition has been remarkable and demonstrates the sheer breadth of good work being done across Oxfordshire. We are delighted to be able to give something back to the communities we serve via our "Brand the Bus!" competition."
Katharine Barber, Home-Start Oxfordshire Chief Executive said: "The three Oxfordshire Home-Starts are completely delighted about this wonderful news. Our own branded bus will be a perfect vehicle for us to raise awareness about our vital work helping families with young children through their challenging times. The bus will help us recruit more volunteers and raise funds, and that means we'll be able to reach many more of the Oxfordshire families who are asking for our help. Thank you, Oxford Bus Company, and everyone who voted for us."
Oxford Hub is a charity, which works to tackle social and environmental challenges in Oxford city. Yellow Submarine is an Oxfordshire charity that believes people with learning disabilities and autism deserve to live life to the full.
The good causes that were voted into the top ten were Oxford Hub, Helen & Douglas House, Home-Start Oxfordshire, Maggie's, The Berks & Oxon Wildlife Trust, Oxford Together on Climate Change, Shine Oxford, Pancreatic Cancer Action, Oxfordshire Scouts and Yellow Submarine.
Home-Start Oxfordshire

Below is the winning entry submitted by Zena Forster from Home-Start Oxford. You can also visit their website to find out more about the wonderful work of Home-Start.

Visit the Home-Start Oxford website
View Video: