Previous Winner 2018-2019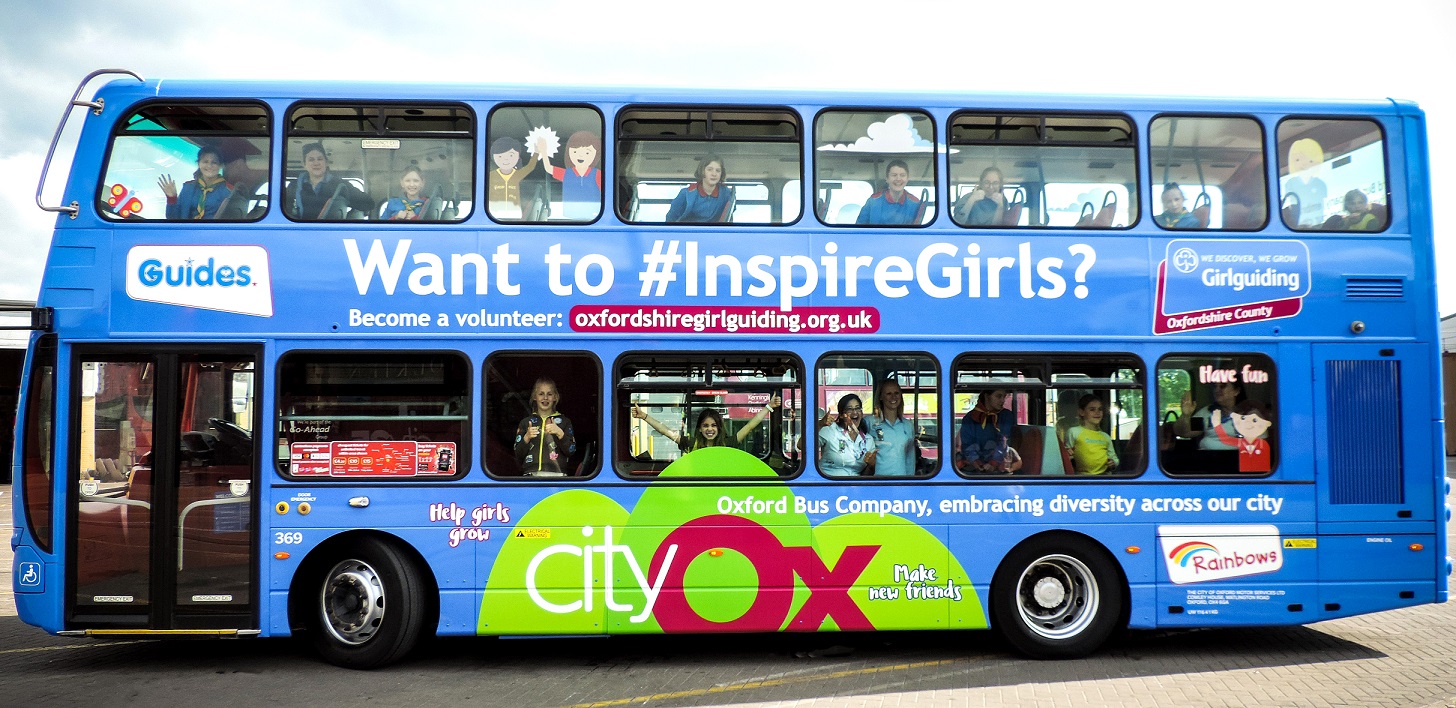 The Oxford Bus Company selected Girlguiding Oxfordshire as the winners because their compeitition entry really showcased how the vision and values of their organisation closely match with our own. Having declared them as our winners, we worked closely with Girlguiding Oxfordshire to design a bus with their brand colours, logos and messaging that will provide their great cause with the attention they are looking for throughout the year. We think the bus looks fantastic and we're proud to support such a worthwhile good cause in our community. We're delighted to help spread their message around the county as their branded bus drives the streets of Oxford for at least 12 months as part of the Oxford Bus Company fleet. The bus will also been seen at events such as the Abingdon Air Show where even more people will see it.
Angela Peel, County Commissioner of GirlGuiding Oxfordshire, said: "We're so grateful to Oxford Bus Company for this amazing opportunity to raise the profile of Girlguiding in Oxfordshire, and we can't wait for people to see the wonderful bus design."
Ros Letellier, who submitted the entry for Girlguiding Oxfordshire said: "Girlguiding offers all girls aged 5 to 18 a safe environment to learn skills, make friends and have fun. We pride ourselves on offering our members 'mountain top moments' - those moments of accomplishment which they will remember forever - and seeing this bus come to fruition is one of those moments for us as leaders. We hope that the bus will encourage more girls to come and try Rainbows, Brownies, Guides and Rangers, and perhaps more adults to put themselves forward as volunteers."
The "Brand the Bus!" competition attracted almost 40 entries in this, its first year, and the quality of entries was very impressive. The first round of judging attracted almost 6000 votes from members of the public. The 10 entrants who received the most public votes were then shortlisted. A judging panel then had the difficult task of selecting one winner from among the best 10. Helen & Douglas House, Sobell House and Chron's and Colitis UK were highly commended by the judging panel, which included an external partner.
The competition proved so popular that we're delighted to turn this into an annual competition going forwards. So please watch this space and be ready to enter this summer - and your favourite charity or good cause might be next to "Brand the Bus!"
In the depot for the launch April 2019

Representatives from Girlguiding Oxfordshire attended the official launch event and enjoyed tea and cake with Oxford Bus Company's Managing Director and the marketing team who created and managed the competition.

Girlguiding Oxfordshire representatives celebrate the arrival of their bus

Representative guide leaders, volunteers, guides, brownies, rainbows - everyone agreed the new bus looks great!
Girlguiding Oxfordshire.

This was the winning entry submitted in the first 'Brand the Bus!' competition by Girlguiding Oxfordshire. Their website is www.oxfordshiregirlguiding.org.uk. This entry was submitted by Rosalind Letellier.https://www.oxfordshiregirlguiding.org.uk/