Our Stars of the Month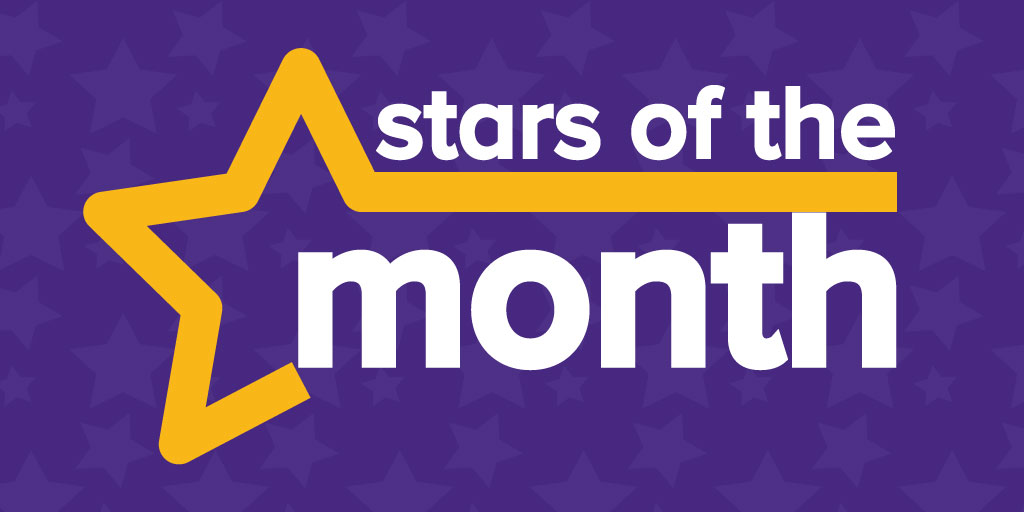 Each month, customers and colleagues nominate members of our Oxford Bus Company, Thames Travel, Carousel and City Sightseeing Oxford team for their Star of the Month. Below you will find all our latest stars!
Have you seen one of our colleagues going above and beyond? You can contribute by nominating them online here. You can also give us a call on 01865 785400.
December 2022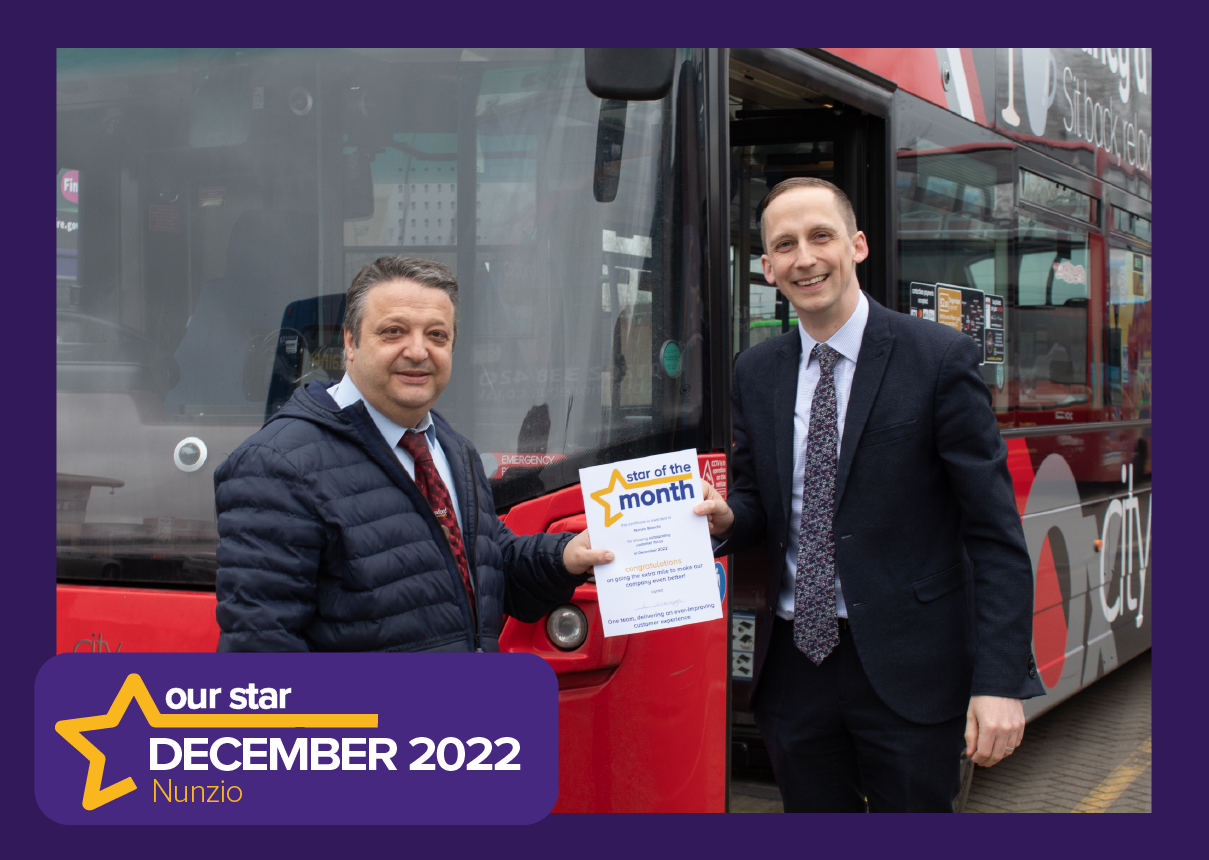 We would like to thank Nunzio for his compassionate and selfless service. During the cold winter month, he went above and beyond to help ensure the proper care and safety was provided to an intoxicated person at a time when ambulance, police, or hospital staff were unable to help. His actions demonstrate his dedication to providing exceptional customer service and caring for the well-being of his passengers. Thank you, Nunzio, for your kindness and outstanding service.
November 2022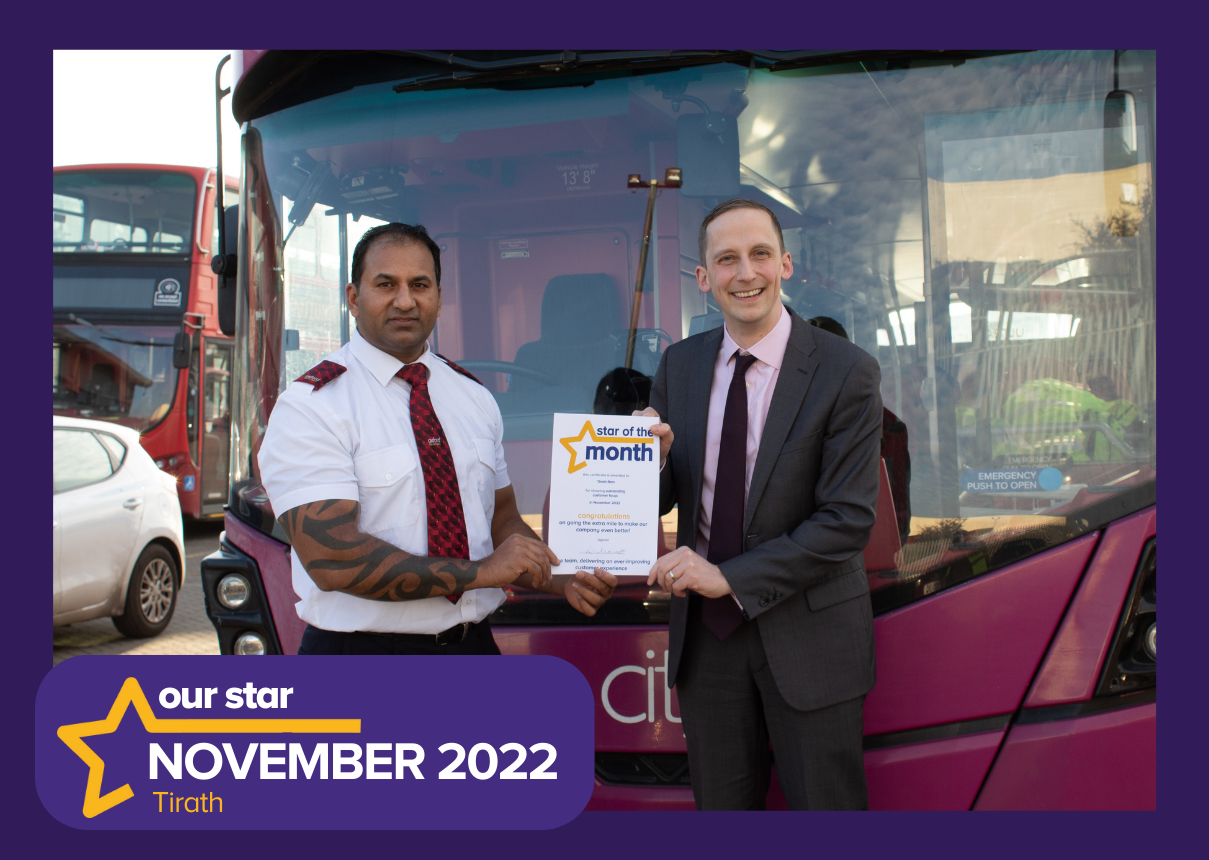 After being commended by a customer, Tirath was awarded Star of the Month for his kindness and compassion as a driver. He went above and beyond by stepping out of the bus to help a girl who was feeling unwell. He offered to call a family member or ambulance, and made sure that she was getting the help she needed.
October 2022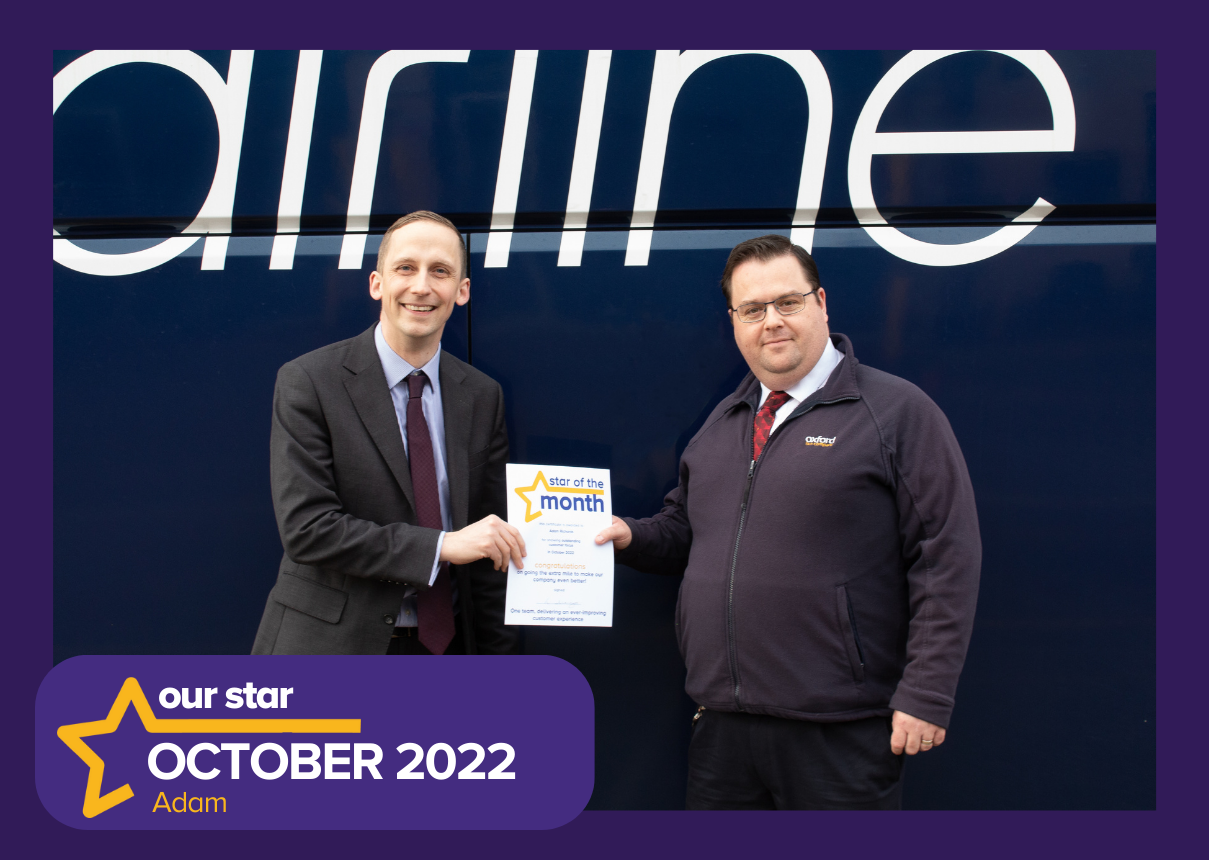 We would like to thank Adam for his exceptional service and initiative in resolving an issue with a low coolant level on his coach. Instead of wasting time and money for service to arive, he took the matter in his own hands and safely drove the vehicle to the engineering department while topping up the coolant with mineral water along the way.
September 2022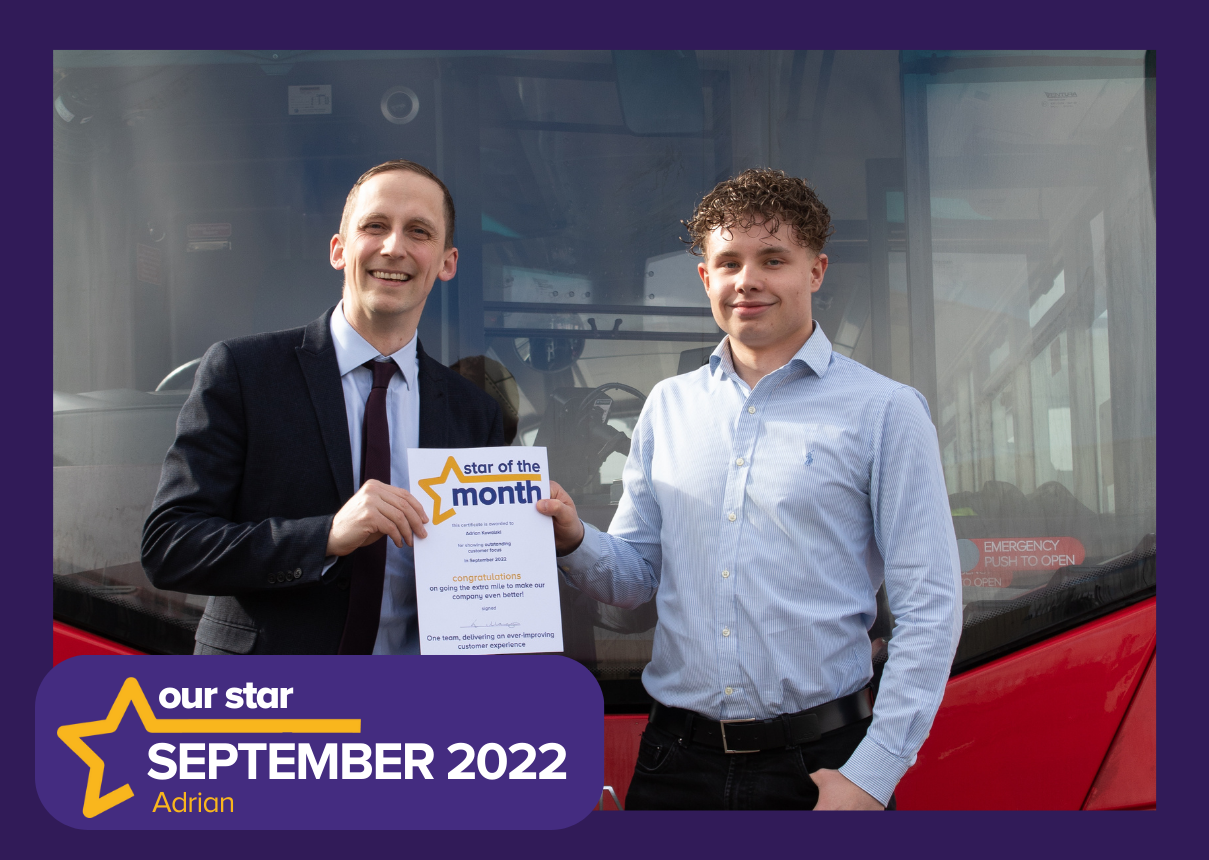 We would like to thank Adrian for his exceptional service in Customer Services. Despite a high volume of calls and a short-staffed team, Adrian went above and beyond by taking control of the situation and demonstrated expertise, knowledge and showed true commitment to providing excellent customer service. His helpful attitude and professional demeanor were greatly appreciated by the entire team.
August 2022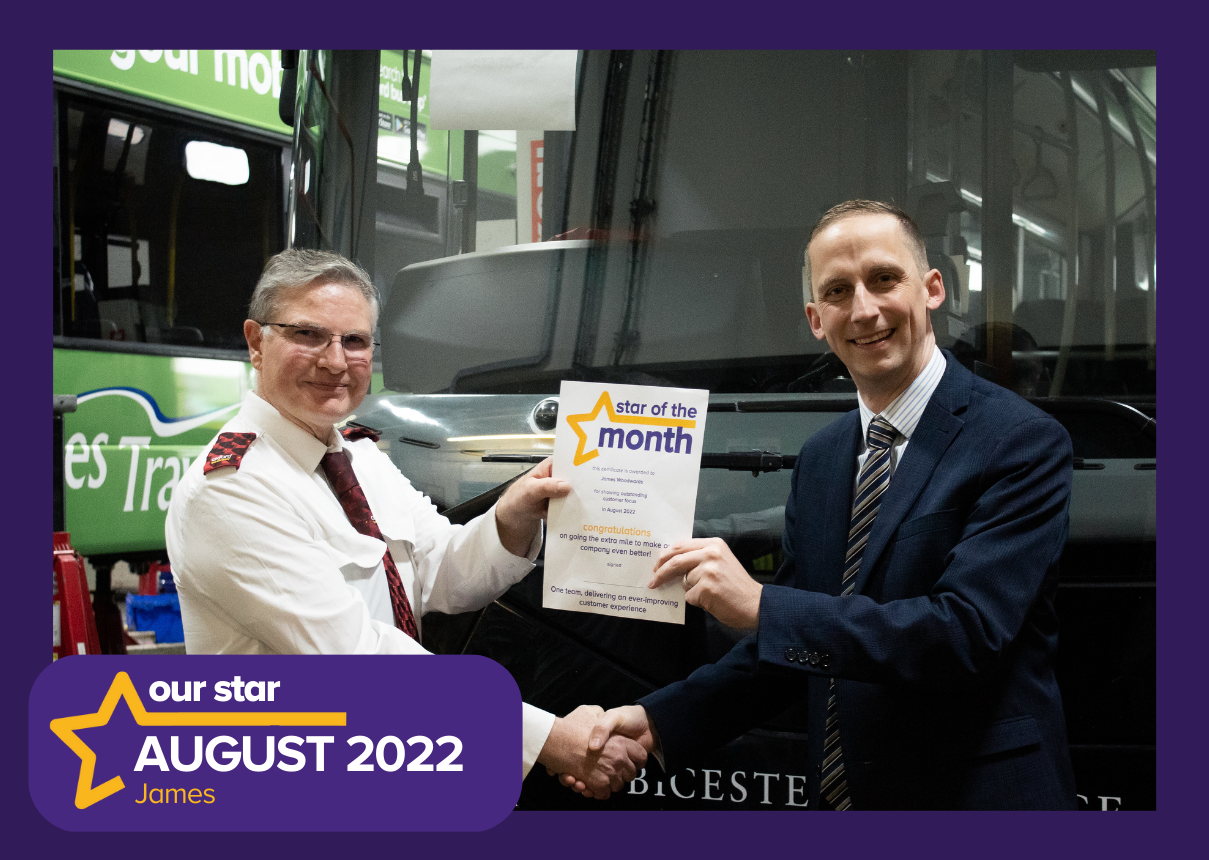 We would like to thank James for his quick thinking and proactive approach during the thermal incident on 514 while operating to Bicester Village. His actions undoubtedly saved the vehicle from further damage and he has been recognised as the Star of the Month for August.
July 2022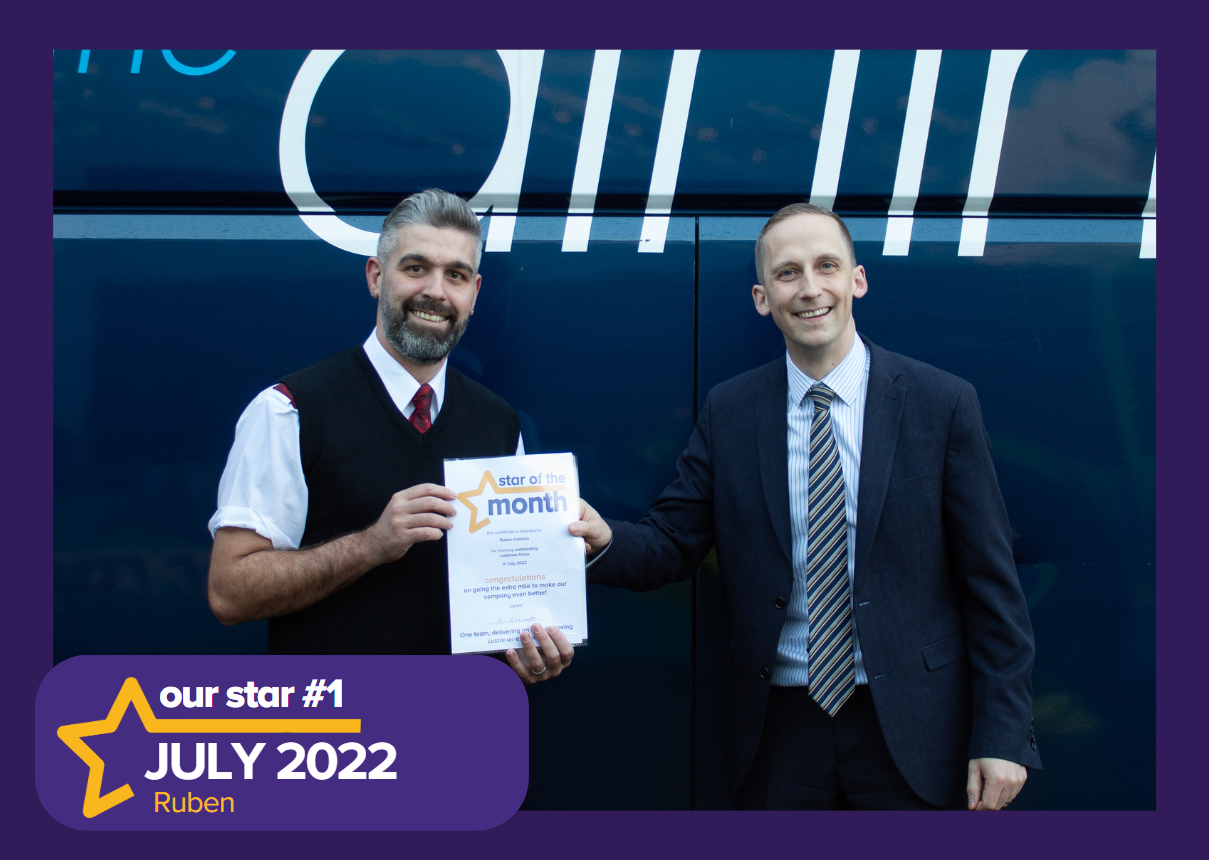 We would like to thank Ruben for his kindness and commitment in helping out a colleague whose bus had broken down during the heatwave in July. His generous spirit in providing food and water for his colleague over the 5 hour wait for help was greatly appreciated and recognised.
June 2022

Arek went above and beyond for a young passenger who was unfamiliar with the Oxford bus network during a cycle race event. While on the phone with their parents he was able to work out the appropriate route home, all the while keeping an eye on them and making sure they caught the correct bus. He finally spoke with the driver to make sure she would know to get off at the right stop.
May 2022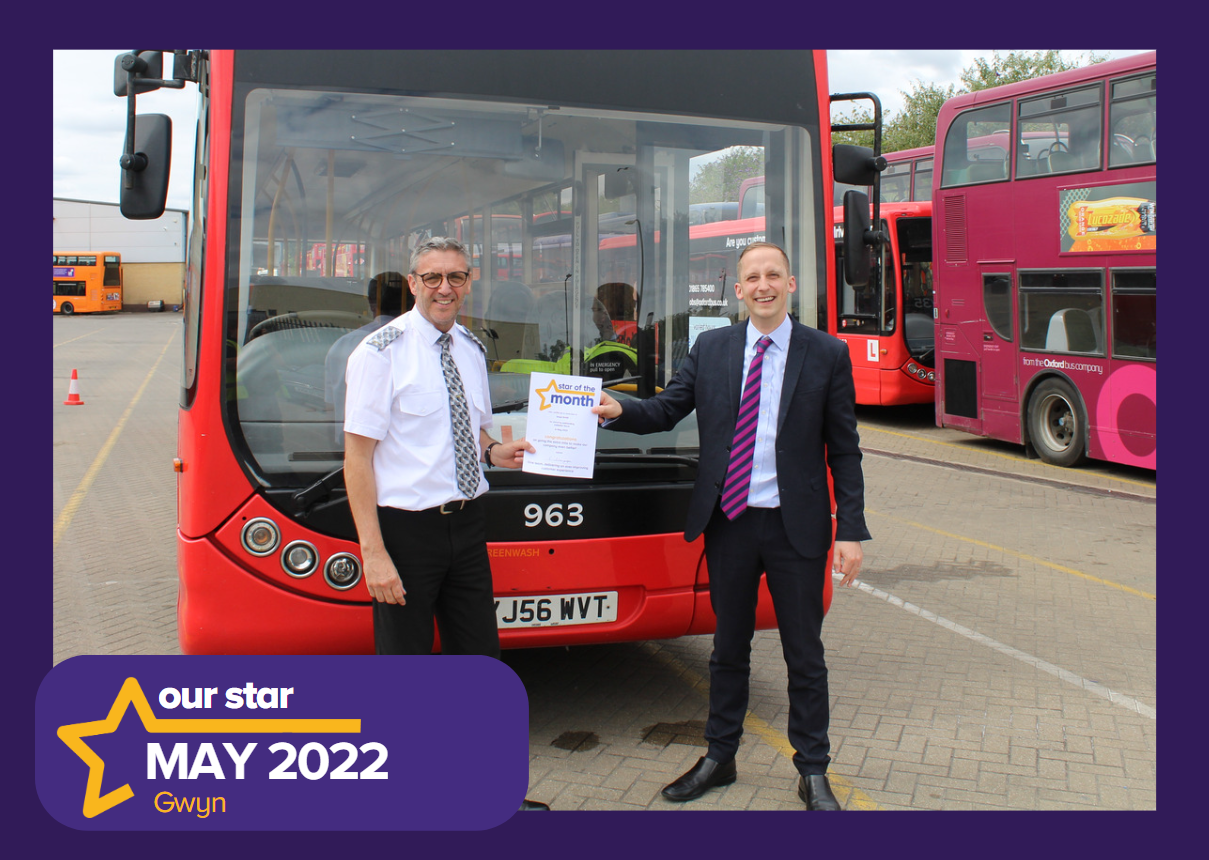 Gwyn sprang into action when a theft took place on a city3 bus. His quick work stopped the thief and reunited the owner with their belongings.
April 2022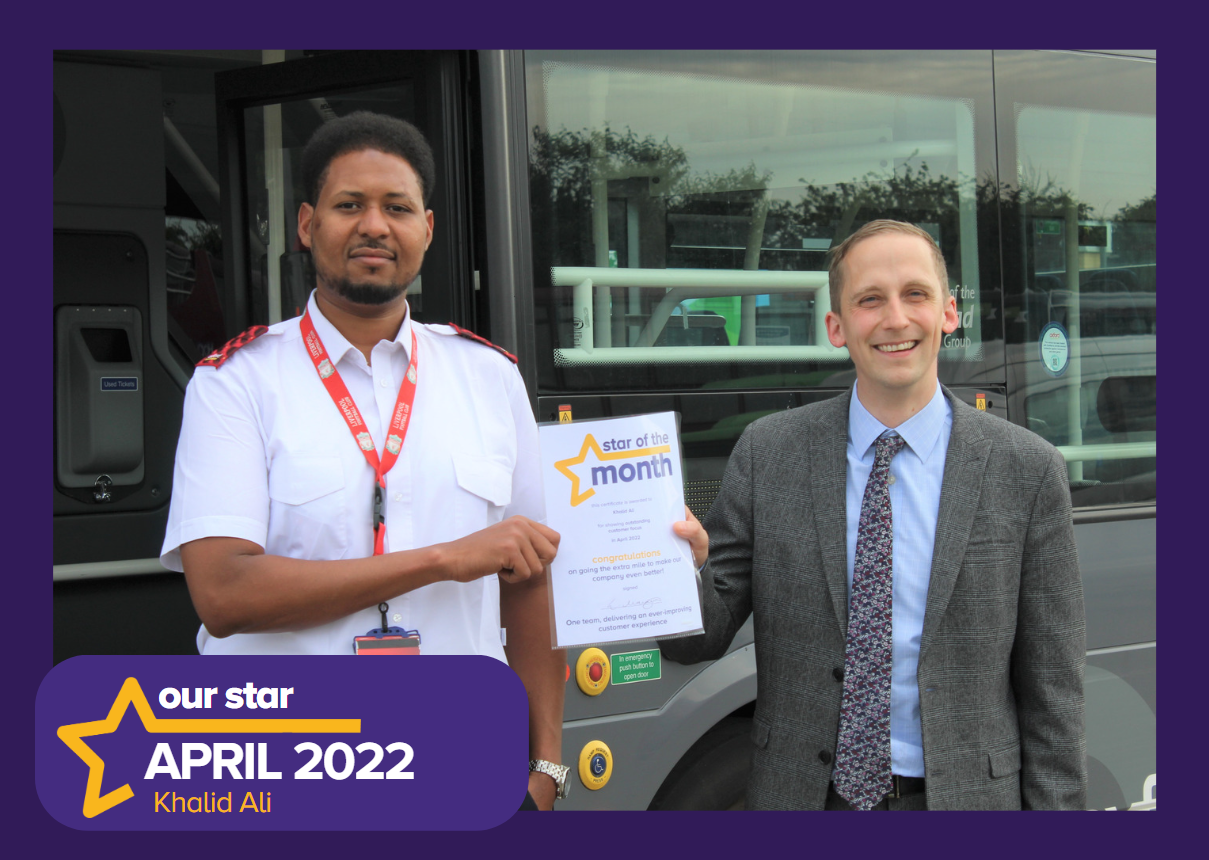 Khalid received praise from a passenger who wanted to commend him for his actions during a difficult confrontation. Khalid remained calm and caring which prevented the situation from escalating to something more serious.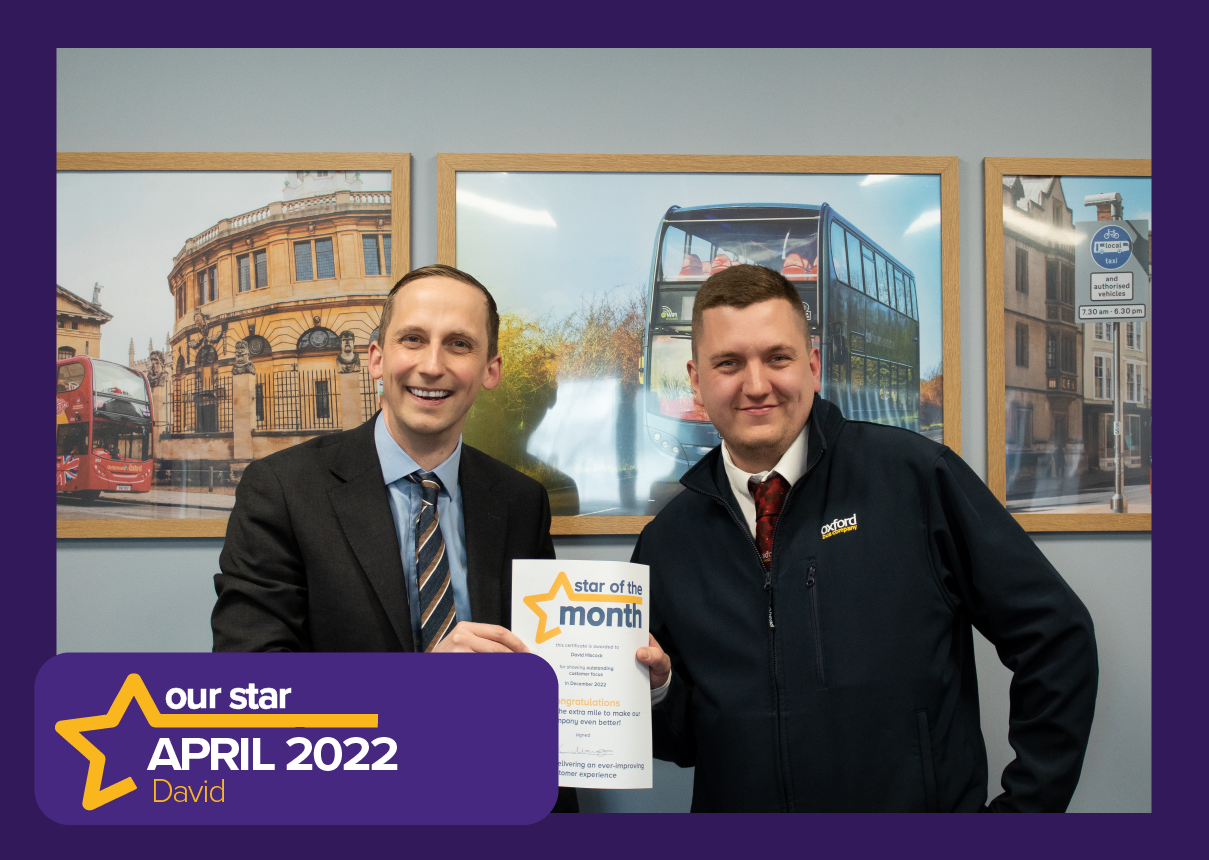 David kindly assisted a blind passenger into the hospital for their appointment.
March 2022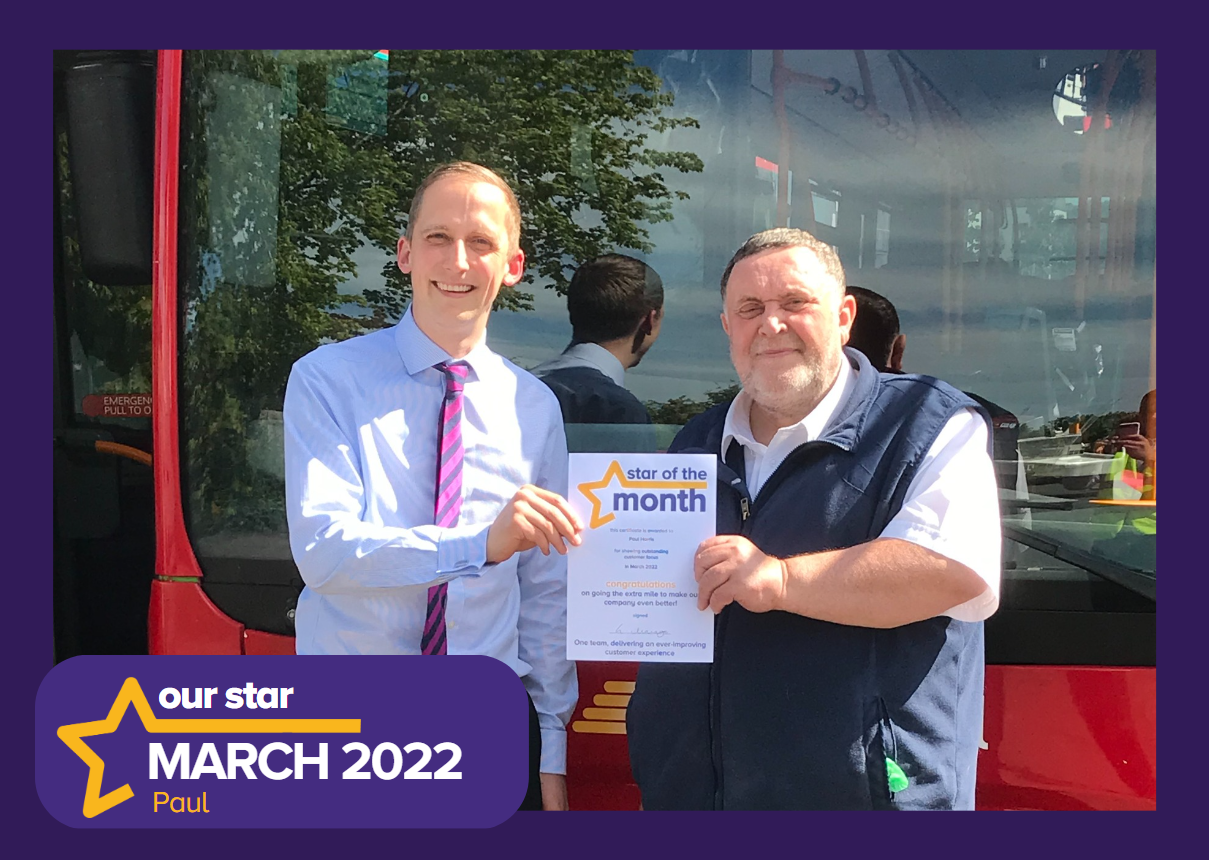 Paul received a commendation from an extremely grateful passenger after he left important medication on the bus. Paul went above and beyond to return the medication after his shift.
February 2022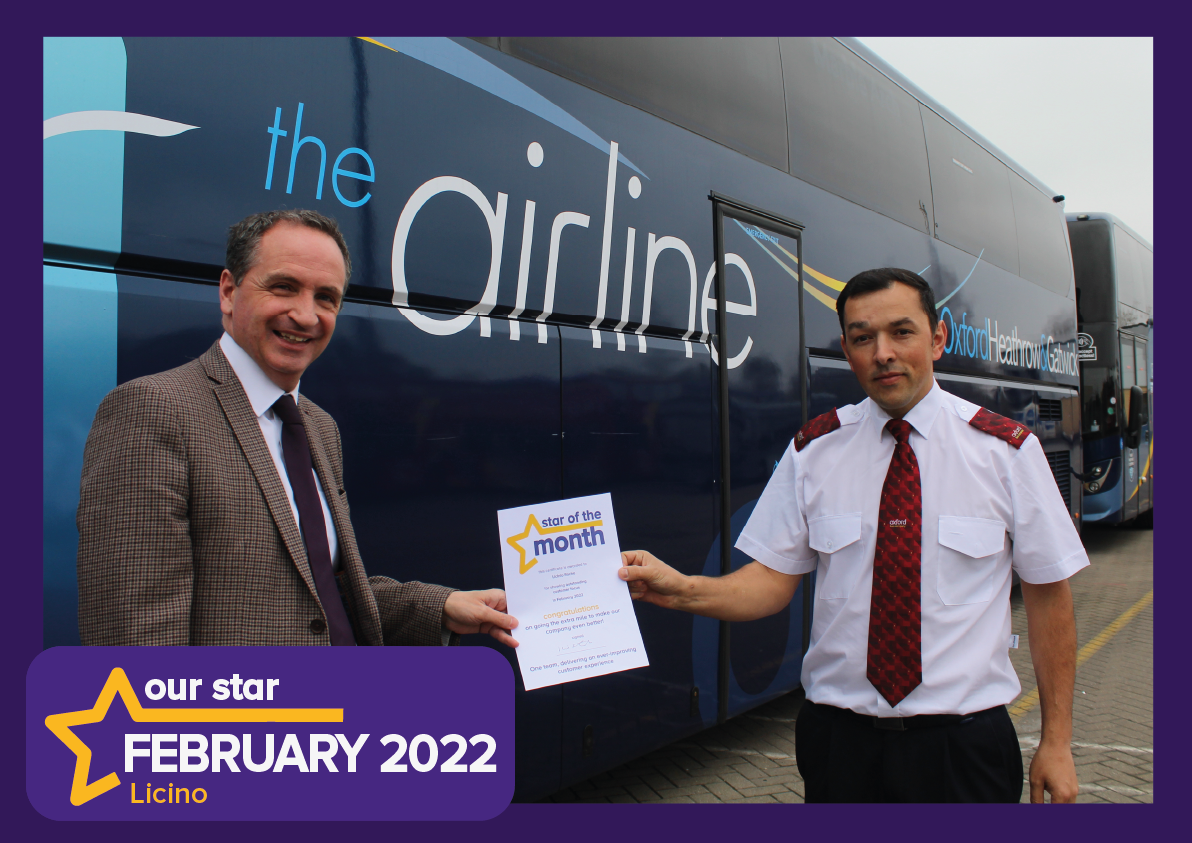 Licinio received a commendation from a passenger for dealing with customers in distress in a helpful, professional manner.
January 2022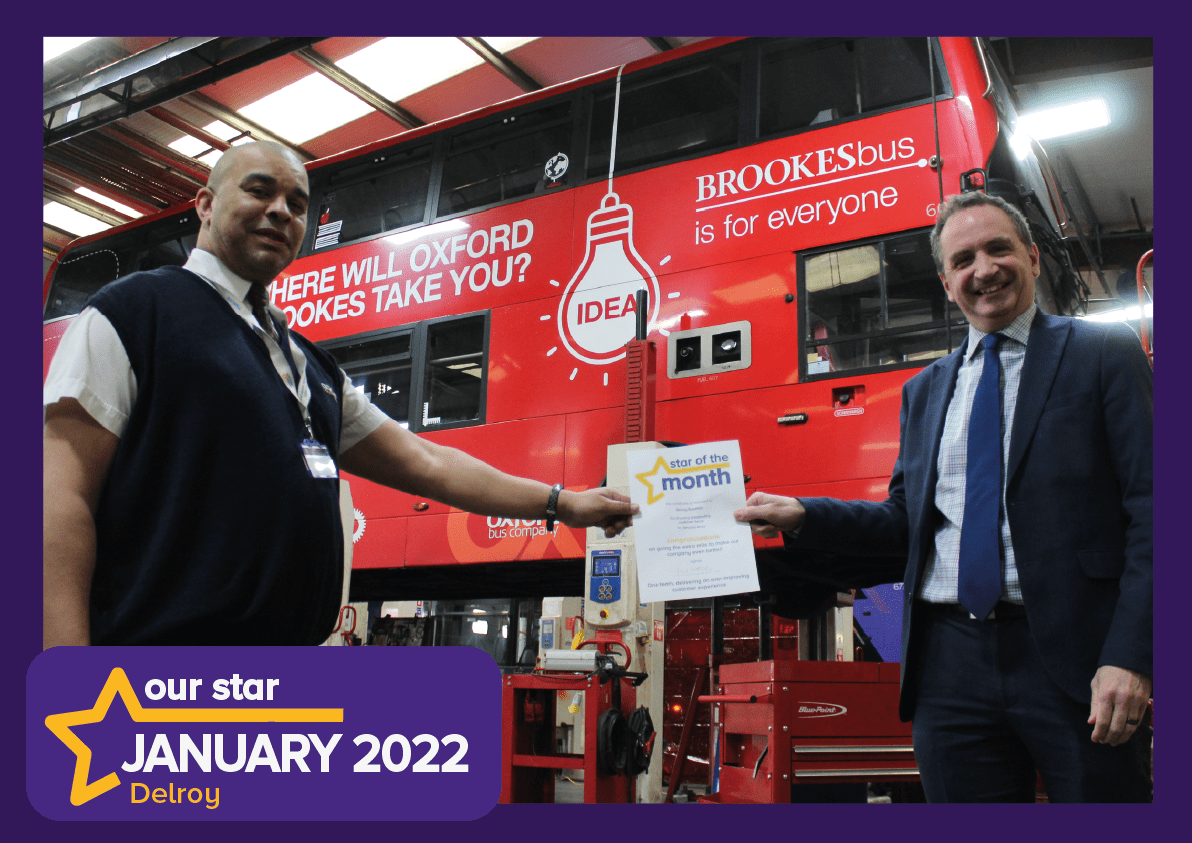 Delroy received a commendation from a passenger after an elderly lady took a trip boarding his bus. The passenger commended the compassionate way Delroy dealt with the situation and ensured the safety and wellbeing of the lady.
December 2021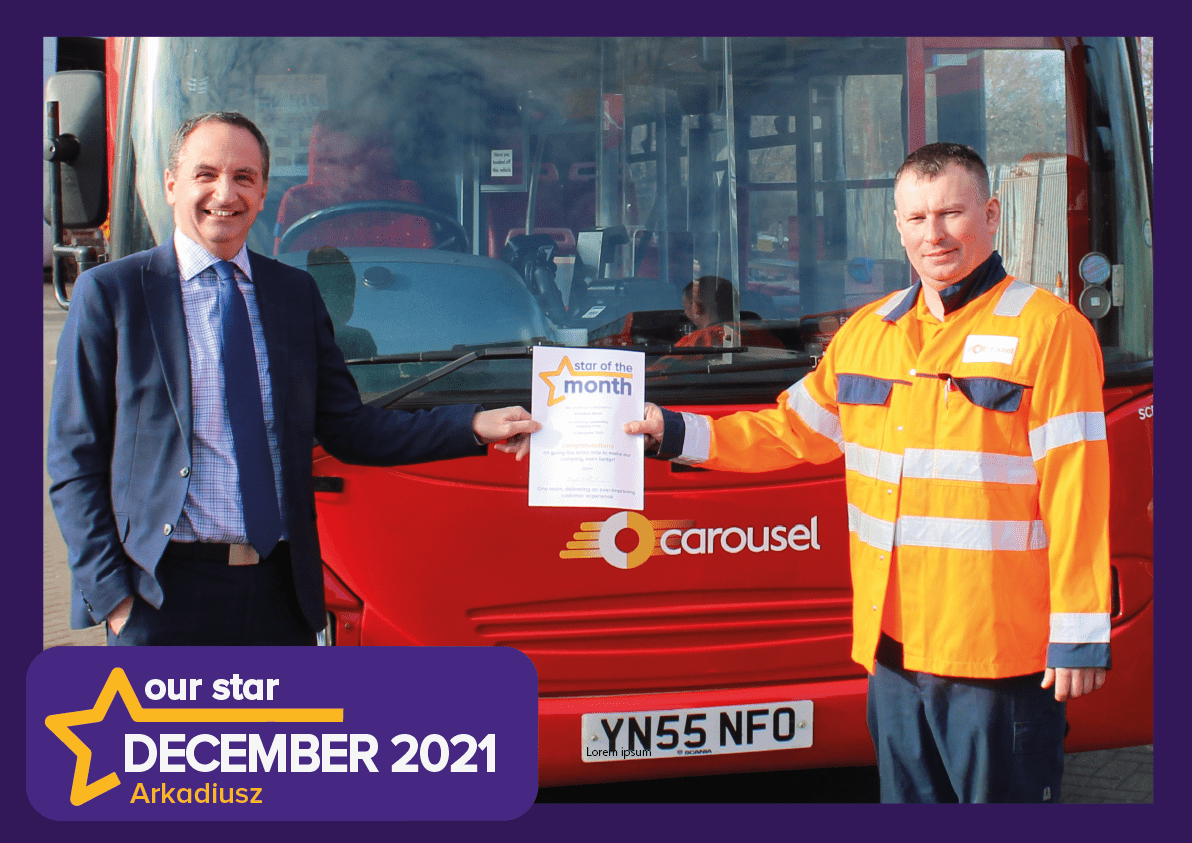 Arkadiusz received a wonderful commendation for taking on the running of the Carousel engineering department while all other colleagues had to self-isolate as a result of COVID.
November 2021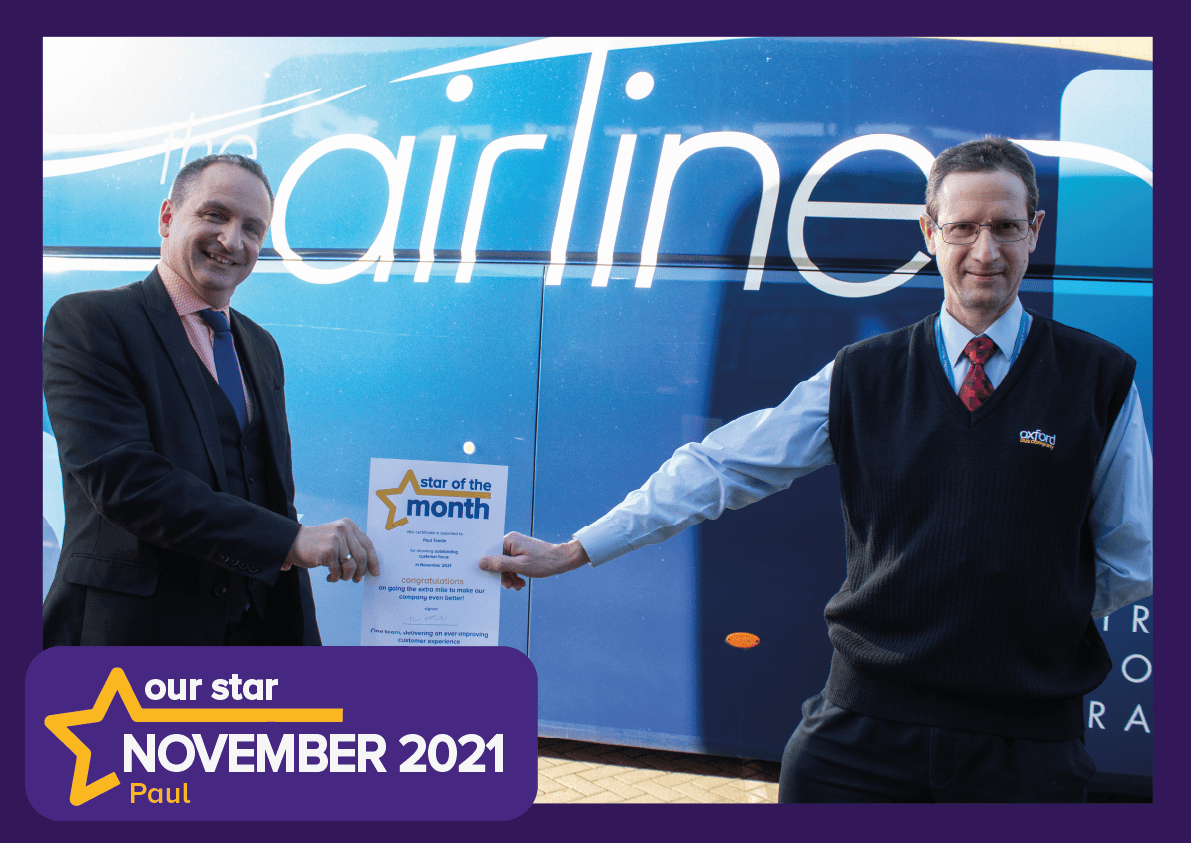 Paul received an exceptional commendation from an airline customer thanking him for his kindness when their wife was distressed after boarding his coach.
October 2021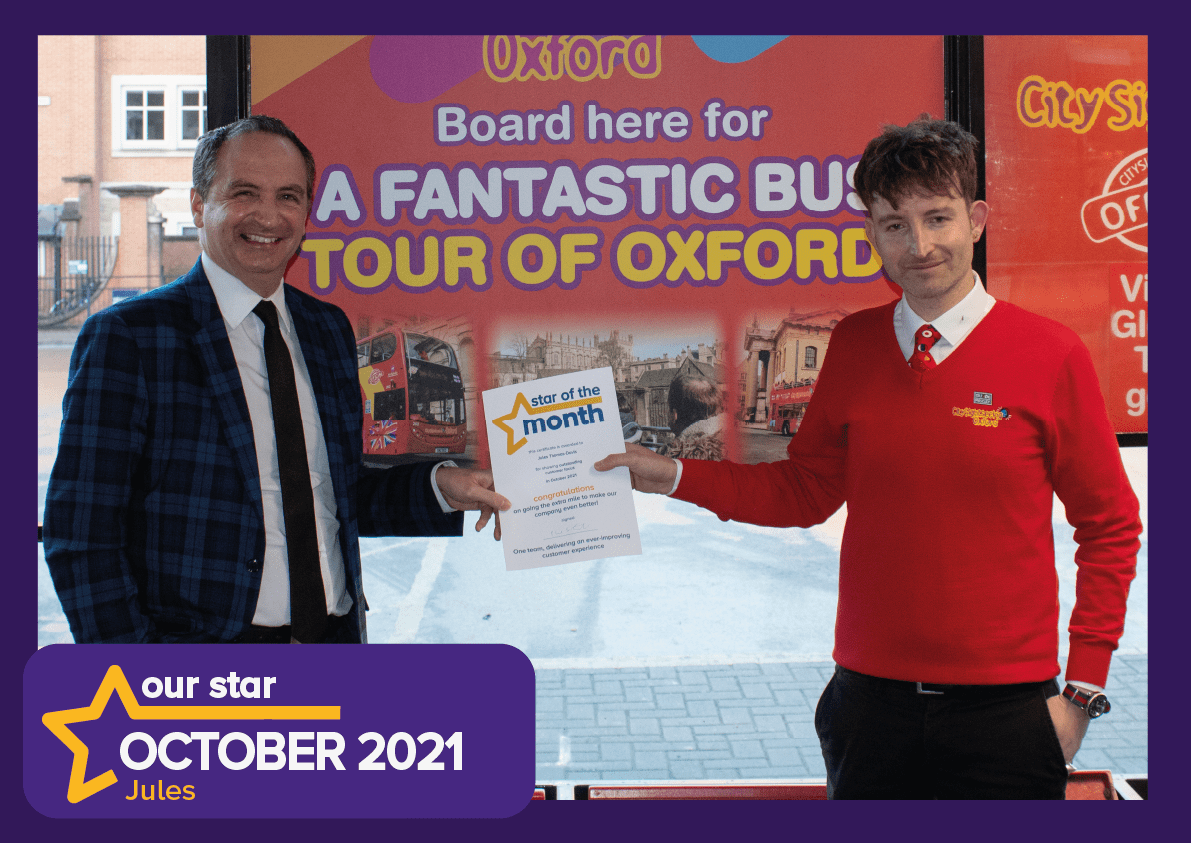 Jules received multiple commendations from City Sightseeing Oxford customers thanking him for going above and beyond with his exceptional customer service.
September 2021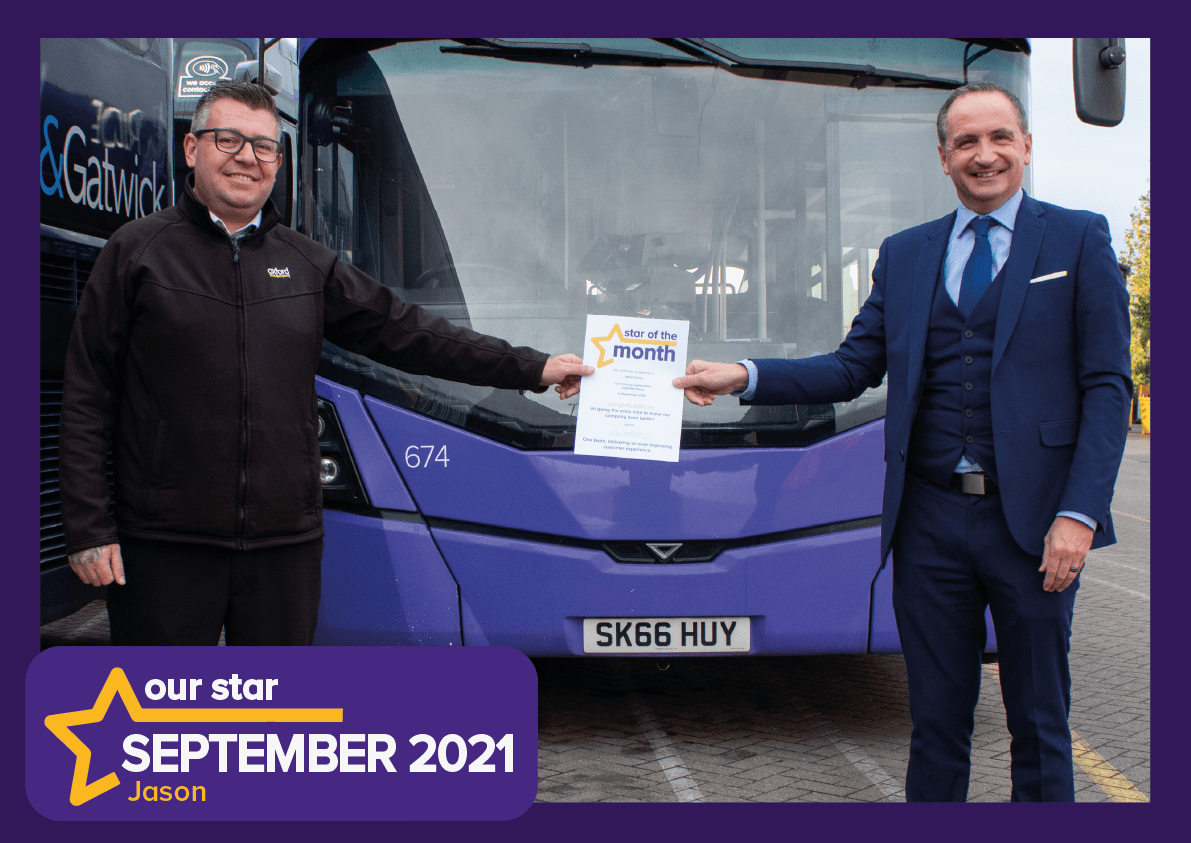 Jason went above and beyond during St Giles Fair. When a customer's bus arrived not in service, Jason arranged for the late running driver to take them to their destination.
August 2021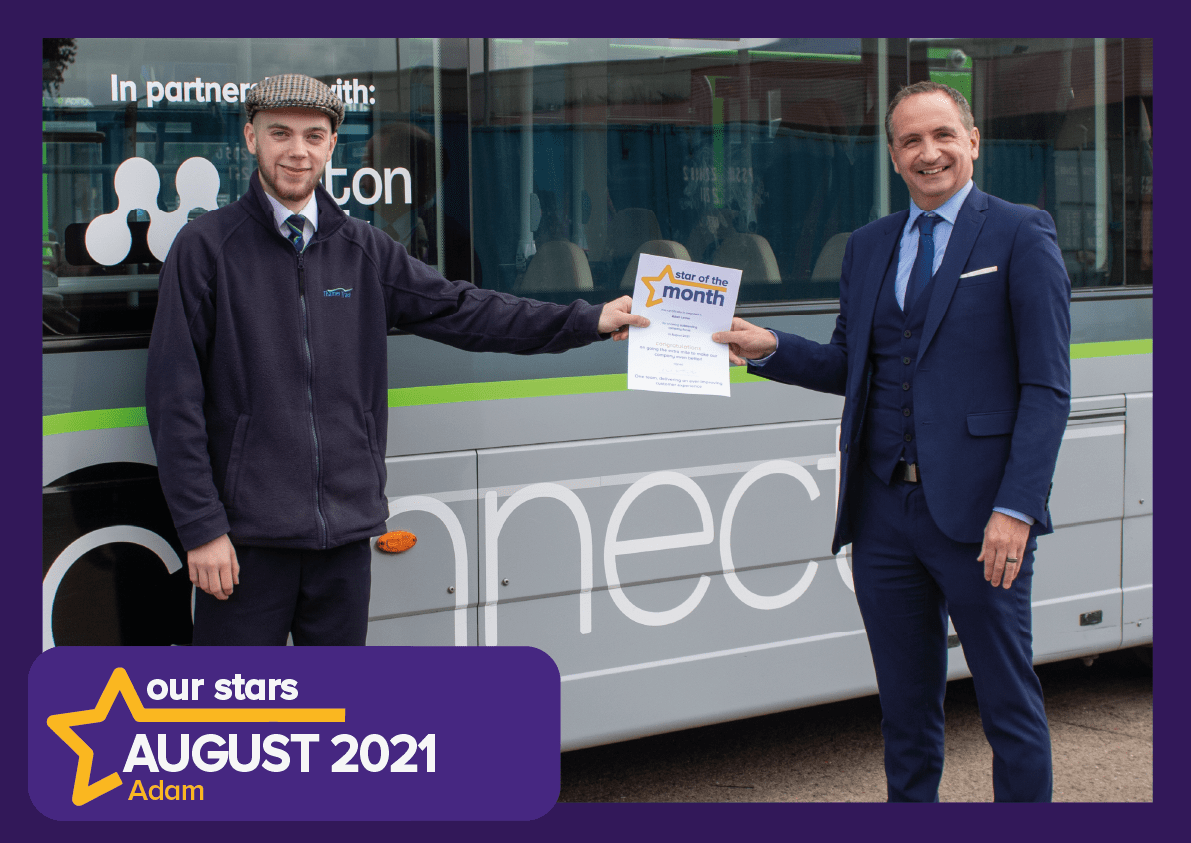 Adam received a wonderful commendation from a customer thanking him for his professionalism, extremely polite approach, smooth driving and exceptional customer service.
July 2021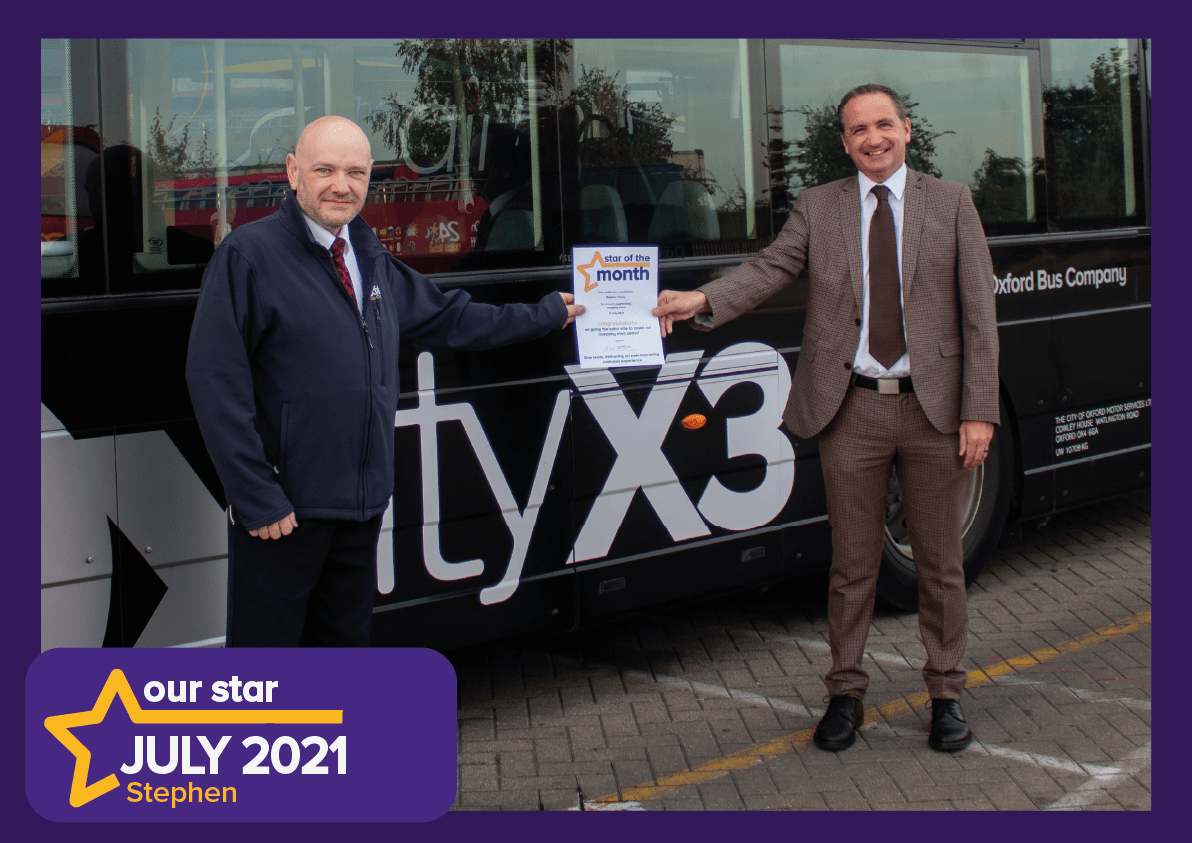 Stephen avoided a collision with a ladder on the nearside lane of the A34 Southbound by an emergency style braking manoeuvre. On top of keeping our vehicle and others around it away from potential serious damages, he ensured passengers' safety by warning them to hold on. Thanks to his warning, no passengers were injured. He then asked passengers to move away from the rear of the bus (thinking of a possible rear-end collision as our bus was stationary in a live lane) and removed the ladder from the road.
June 2021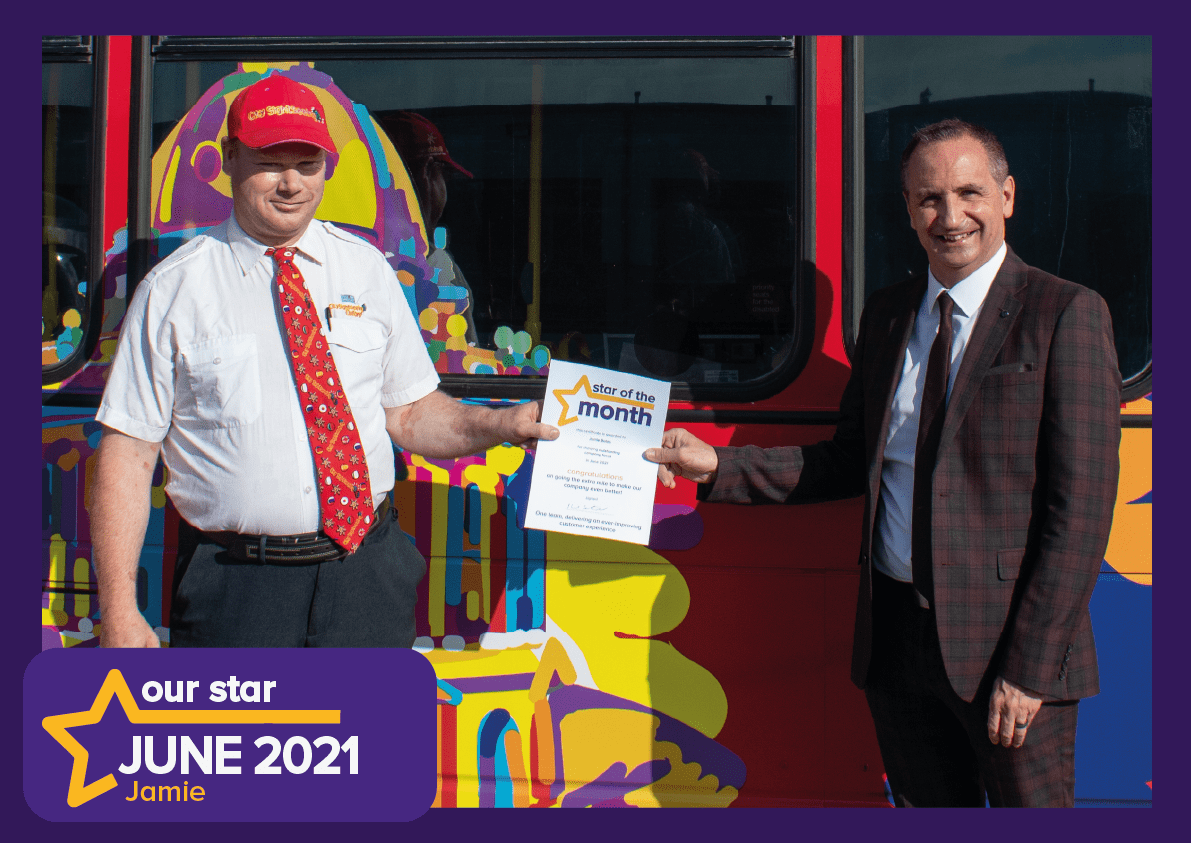 Jamie is providing historical facts of the day to be displayed at the City Sightseeing Visitor Information Point. It provides a great talking point with colleagues and customers.
May 2021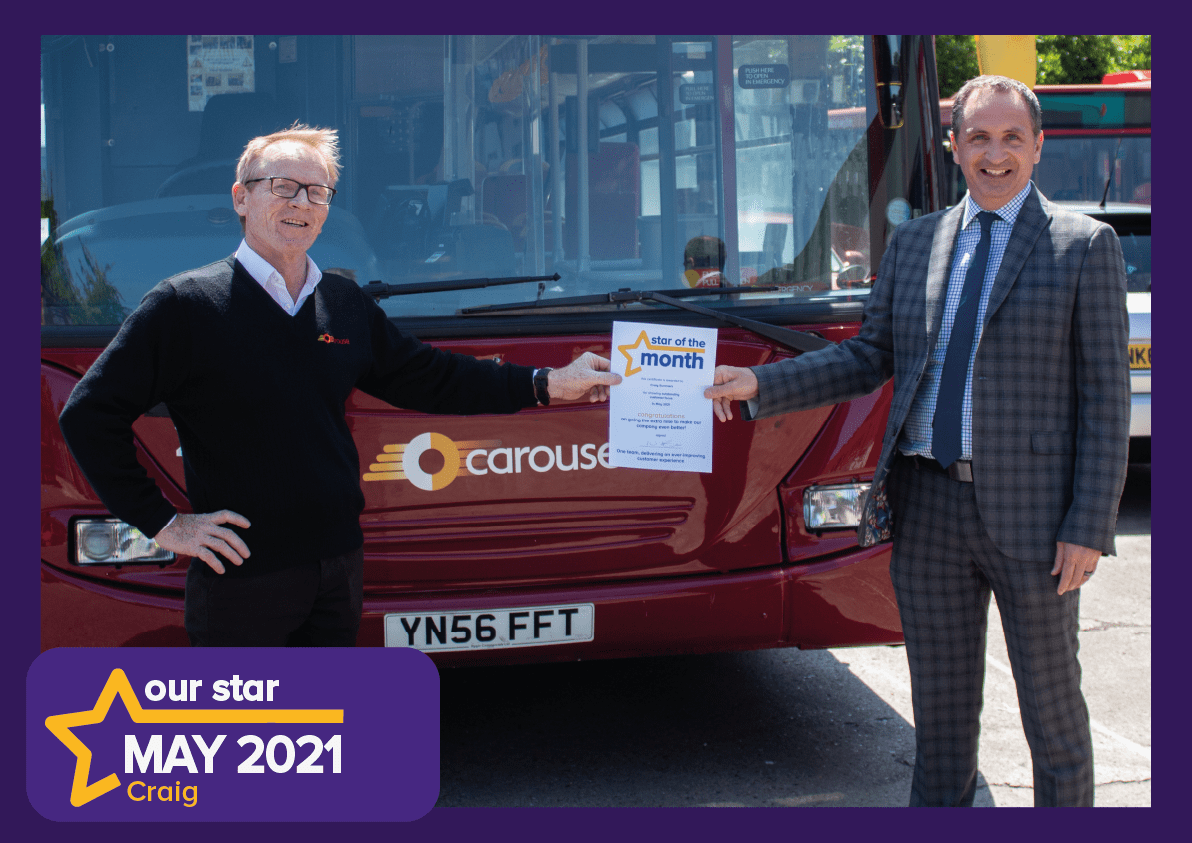 Craig acted quickly after a fatal hit-and-run on the street leading to the Carousel depot. It was dark and the body was in the road, so he took some risk in trying to aid the gentleman. Sadly, there was nothing he could have done, but Craig went above and beyond for a fellow human being.
April 2021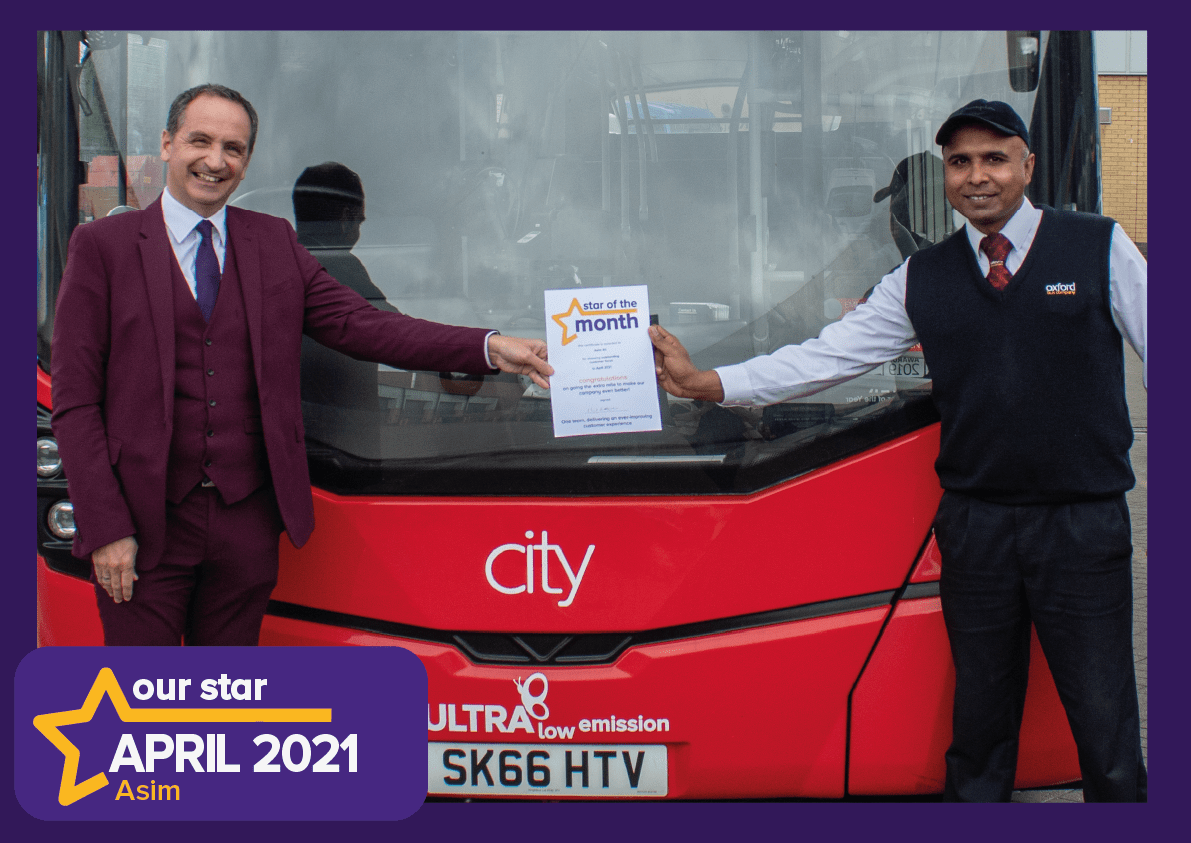 Late at night, Asmin stopped the bus he was driving to assist a couple who was being the victims of an assault by a third party. He offered shelter to the couple on-board whilst the police were being called. Asim positioned himself between the parties to calm the situation down until the police arrived, taking the offender safely into custody. A truly commendable act of selfless attitude to ensure the wellbeing of vulnerable members of the public.
March 2021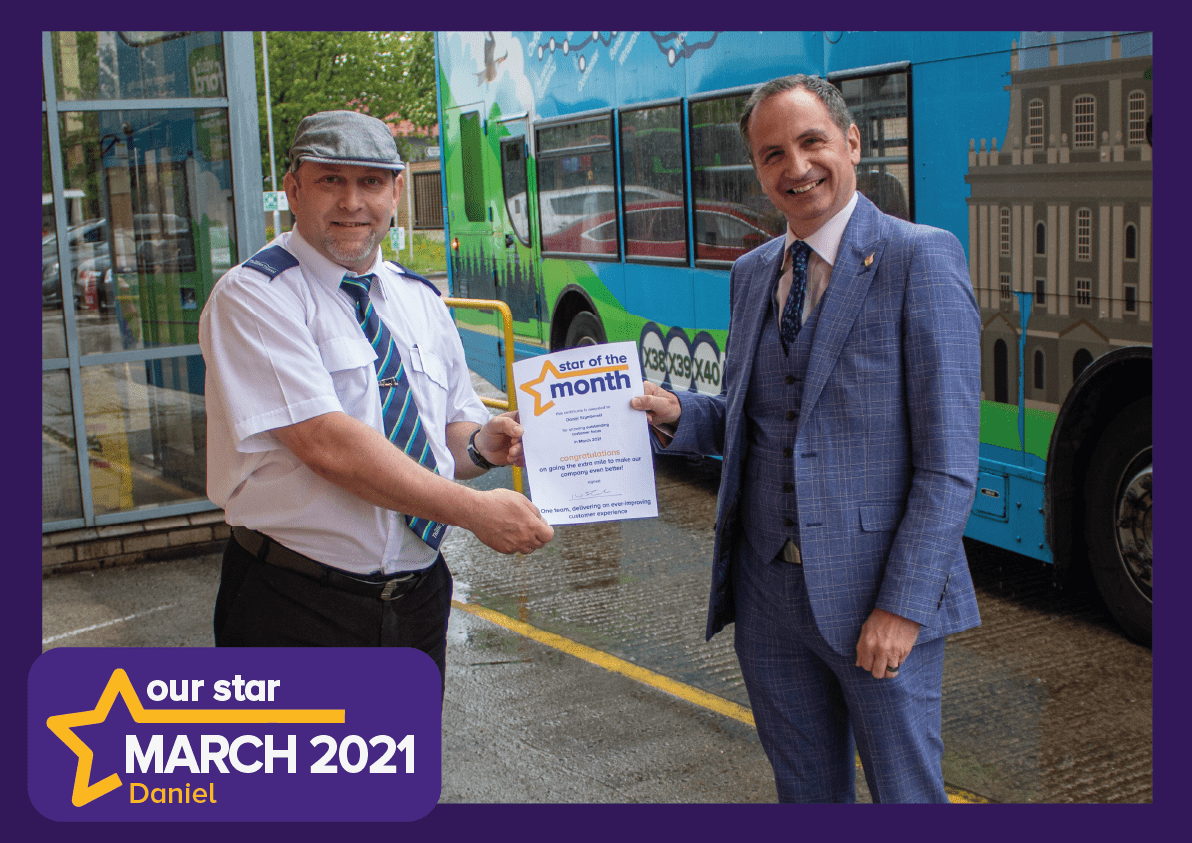 Daniel received three fantastic commendations from regular Thames Travel customers. All three were grateful for Daniel's exceptional customer service. For one, Daniel noticed that they were using the bus numerous times in a day and were buying day passes, single and return tickets. He spoke to them about more suitable ticket options, which allowed them to save money.
For the other two, they appreciated that he waited for them so they were able to get on-board.
February 2021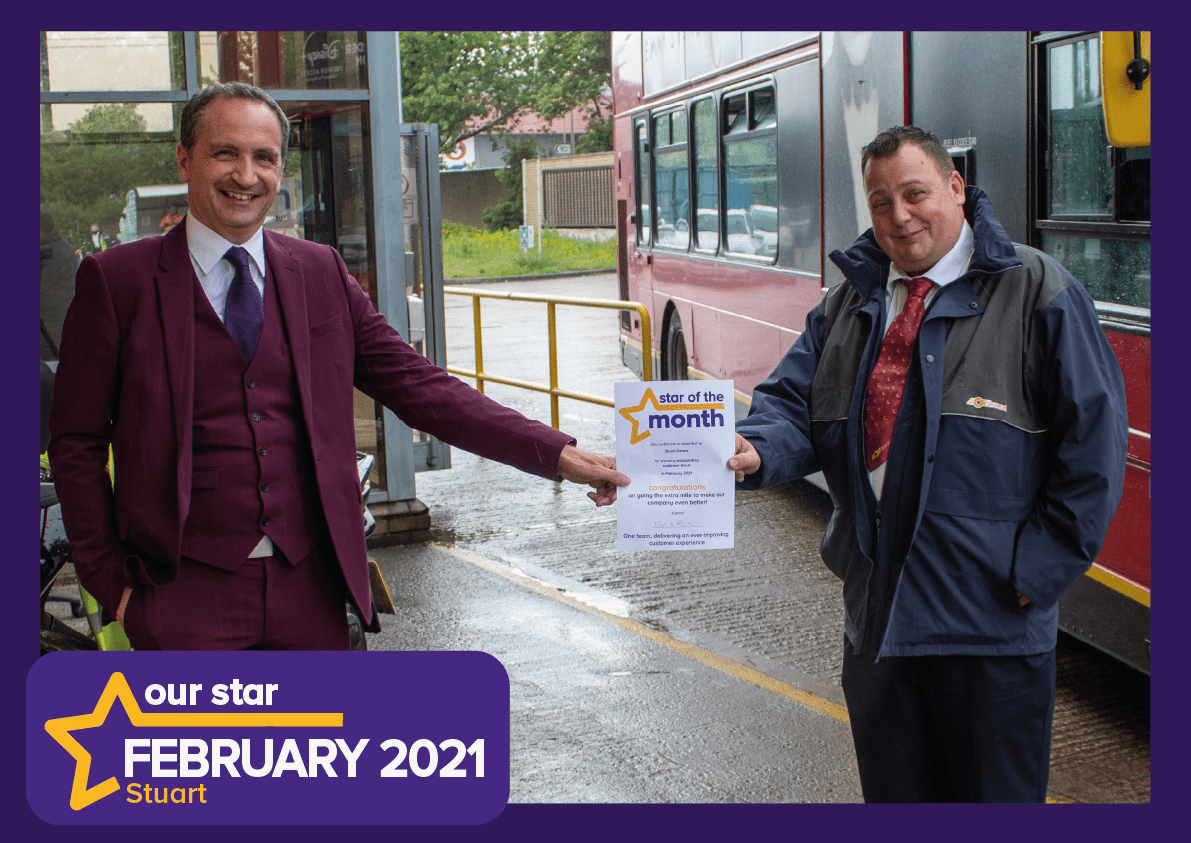 Stuart received two amazing commendations from Carousel customers.
One customer highlighted that Stuart was charming and a very smooth and safe driver. They also mentioned that he was very knowledgeable about times and service changes. The other customer travels regularly on our Carousel network and wanted to emphasise how friendly and patient Stuart always is.
January 2021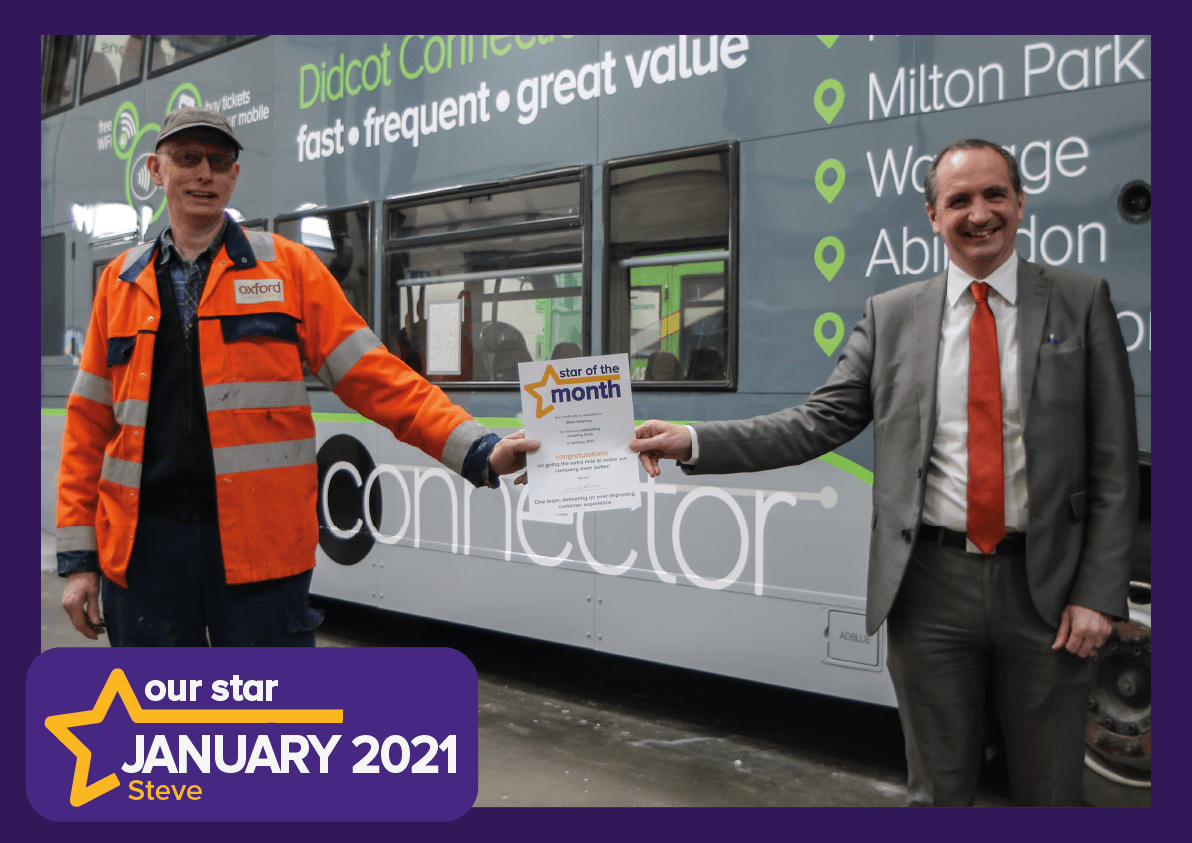 Steve received a fantastic commendation from our Service Delivery Director, Paul Hennigan.
Paul put Steve forward because his work has been to the highest standard, as seen with his work at the rail station to clear out the former City Sightseeing shop and office. Steve has completed a large number of tasks at short notice during the Coronavirus pandemic to help keep colleagues safe, including installing lots of bespoke screens and partitions to help us all to keep our distance. Steve always has a positive attitude and takes each request in his stride.