Oxford Bus Company employees benefit from Oxford Living Wage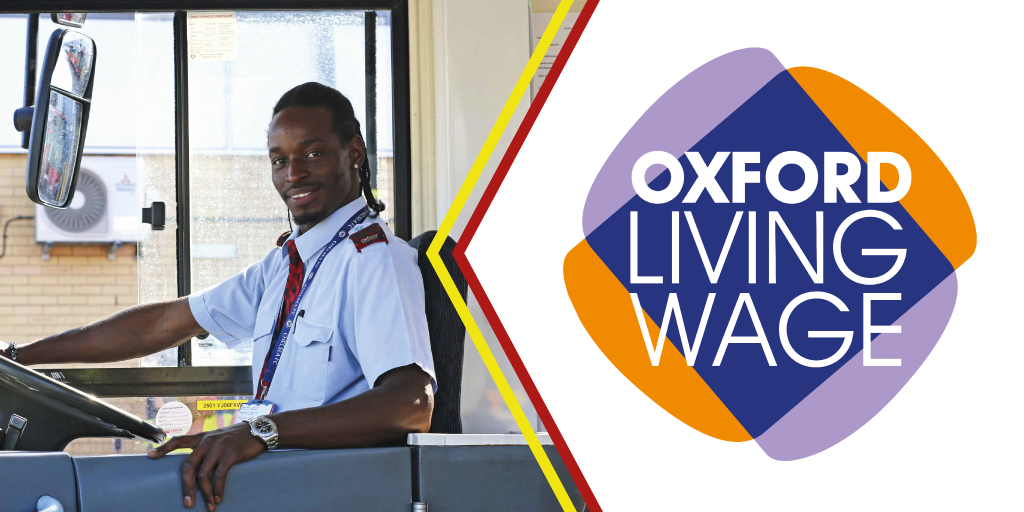 In February 2022, Oxford Bus Company has renewed its commitment to paying the Oxford Living Wage.
The Company has been accredited as an Oxford Living Wage Employer by Oxford City Council for the third year running.
The Oxford Living Wage is a minimum hourly rate of pay that promotes liveable earnings for all workers and recognises the high cost of living in Oxford. The rate of pay is set annually and is linked to the Living Wage Foundation's Real Living Wage. The Living Wage Foundation sets two rates, one for London and one for the rest of the country.
Oxford City Council has set the rate at 95% of the London Living Wage as Oxford is one of the most expensive cities in the country and the current rate is £10.31 an hour. Oxford Bus Company was one of the founding local employers who committed to the Oxford Living Wage initiative when it was launched in 2019.
Phil Southall, Oxford Bus Company Managing Director said: "The Oxford Living Wage makes great business sense and helps us attract and retain colleagues. As a responsible employer operating in a city that is expensive to live in, we believe it is important to be a member of the Oxford Living Wage to ensure we reward our colleagues properly. It also helps us attract local people to the company, which reduces commuting times for many people.
"We are a people business and we invest significantly in training and colleague wellbeing and by paying the Oxford Living Wage it means colleagues can earn a decent living without having to work really long hours."
Councillor Susan Brown, Leader of Oxford City Council, said: "I commend Oxford Bus Company's continued support for the Oxford Living Wage. As one of our first adopters of the Oxford Living Wage, this commitment is even more impressive given the challenges public transport providers face as they strive to recover after the financial impacts of the pandemic.
"Our buses are a vital form of transport for thousands of people every day and bus operators are a key partner in the city's active travel plans. The delivery of improvements to public transport is vital to the success of the council's plans and vision for Oxford. We are working closely with Oxfordshire County Council, the transport authority, to prioritise this.
"The Oxford Living Wage is a key plank of our commitment to creating a more inclusive economy in Oxford as set out in the Oxford Economic Strategy, which aims to ensure all residents can benefit from a thriving economy.
"Oxford Bus Company's pledge will guarantee of all its staff a wage that meets the basic costs of living locally."
Oxford Bus Company provides extensive bus routes in Oxford City and Abingdon, luxury coach services to Heathrow and Gatwick Airports, the BROOKESBus service, in partnership with Oxford Brookes University, and the prestigious park&ride service which connects four car parks to the city.