Littlemore and Greater Leys bus connections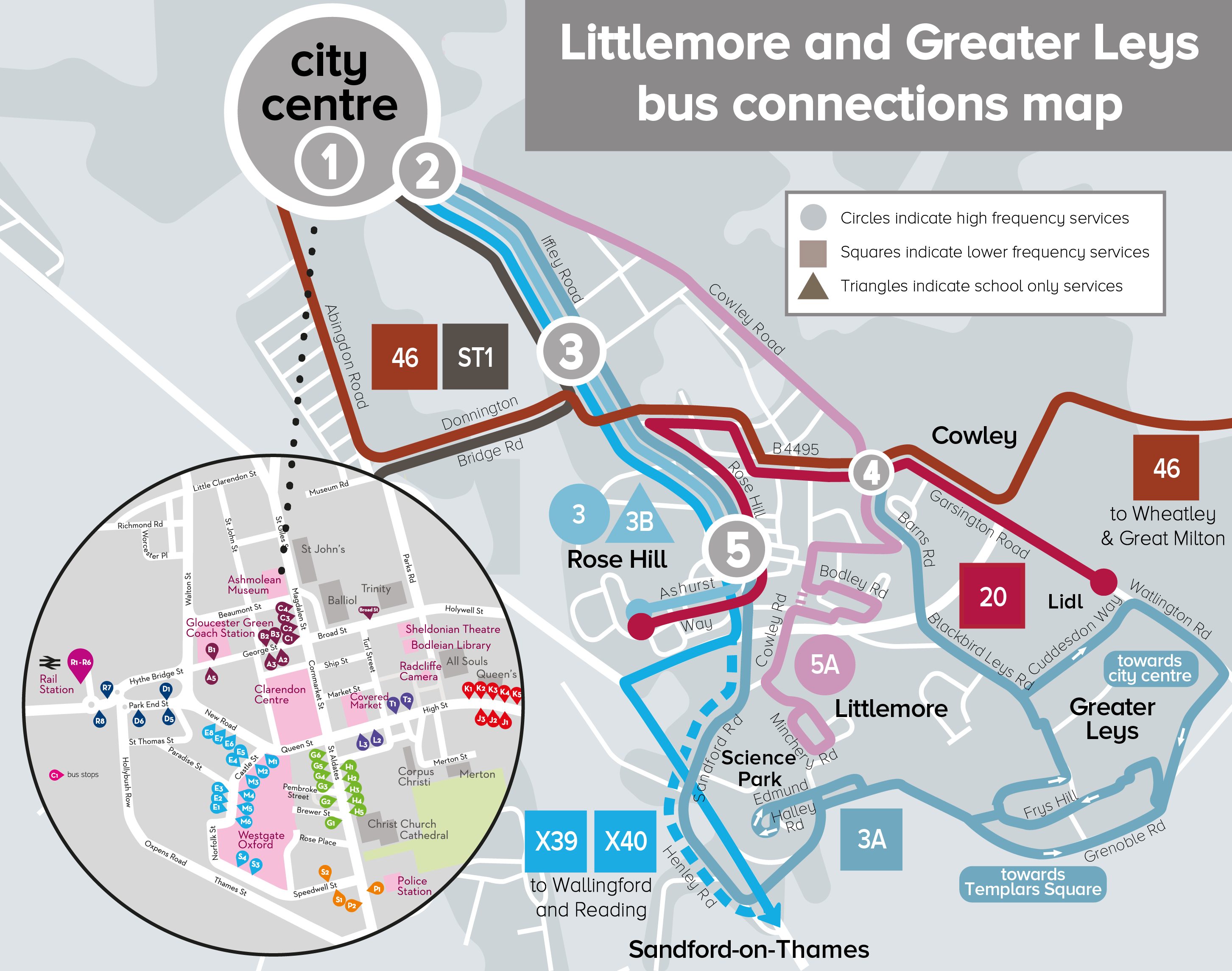 Your connections
If you live in Littlemore or Greater Leys, we're here to help you get around! Your excellent bus connections are listed below.
1. Oxford City Centre
Alight at Carfax and walk to St Aldates for services X1, X2, cityX3, X32 and city35 to Abingdon Road and south to Abingdon (X1, X2, cityX3, city35), Didcot (X2, X32) and Milton Park (X2, X32).
2. The Plain
Alight here and walk to St Clements for services to Headington (city8, city9, 280, 400, U1, X1, X20, X32) and the Churchill (city15), Warneford (city15) and JR Hospital (city13, X3, X32), plus services to the Iffley Road (city3, city3A, ST1, X39/X40).
3. Howard Street Co-Op
Alight here for service ST1 across Donnington Bridge to Abingdon Road.
4. Templars Square
Alight here for services to Tesco and Lidl (service city11/city20), Temple Cowley, Wood Farm and JR Hospital (Stagecoach 10), Wheatley Asda and Great Milton (service 46), and Rose Hill (service city20).
5. Rose Hill Parade
Alight here for service city20 to Templars Square and services X39/X40 to Sainsbury's and south towards Wallingford and Reading.
Your ticketing options
Your Cityzone ticket options
Unlimited travel on Oxford Bus Company & Thames Travel buses within the cityzone area. Cityzone tickets can now be used on more routes, where previously many journeys needed Smartzone tickets.
Find out more
Your SmartZone ticket options
Oxford SmartZone allows you to travel on all Oxford Bus Company, Thames Travel, Stagecoach and Arriva services within the SmartZone area.
Find out more
Combined cityzone + South Oxfordshire zone and Oxford SmartZone + South Oxfordshire zone tickets are also available.