BROOKESbus service changes from 4th September 2022
2 months ago Mon 6th Jun 2022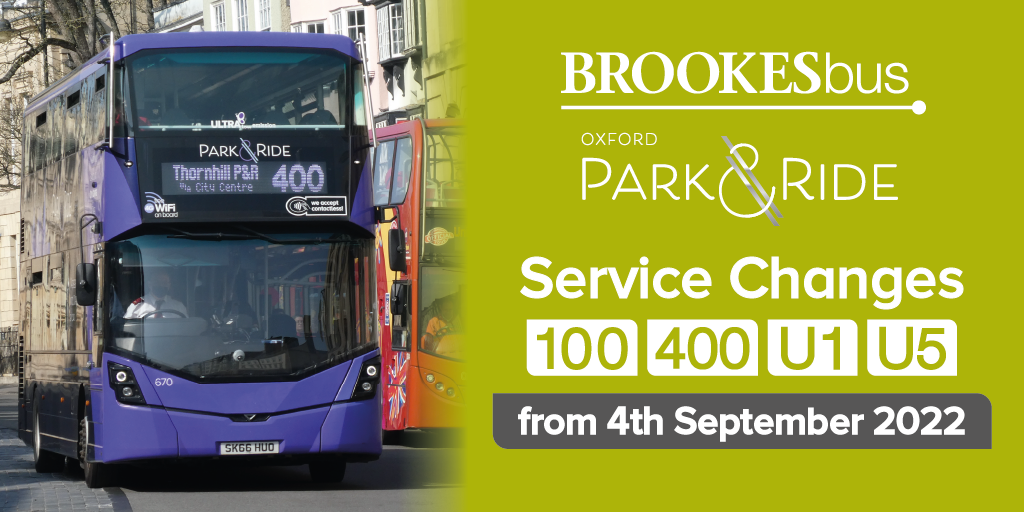 From Sunday 4th September, there will be major changes to the BROOKESbus and park&ride400 services.
The BROOKESbusU1 and the park&ride400 will merge. The new service will enable higher frequency, improved coverage throughout the day and enhanced connectivity for both former routes. Serving Seacourt and Thornhill terminals in full, the new route will extend to Oxford Brookes University's Wheatley and Harcourt Hill campuses but still remain limited stops in the central area. The service will still serve all stops between Seacourt Park&Ride to Harcourt Hill, and Thornhill Park&Ride to Wheatley Campus. Additional stops will be added to serve all Oxford Brookes University requirements.
The BROOKESbusU5, Monday to Friday daytime service linking Oxford Brookes Halls of Residence with Headington campus, will also be revised. This route will be rebranded the 100 BROOKESbusU5 and will extend to Blackbird Leys rather than Oxford City Centre, and to the John Radcliffe Hospital rather than Marston Road. Operating every 20 minutes most of the day, the service will be enhanced at peak times to provide additional capacity for students travelling between Halls and Headington campus.
During the evenings and at weekends, the BROOKESbusU5 will continue to provide Headington campus and Brookes Halls with a service to and from Oxford City Centre. Late night services NU1 and NU5 will remain unchanged.

400 BROOKESbusU1
Harcourt Hill • Seacourt Park&Ride • Oxford City Centre • Oxford Brookes University • Thornhill Park&Ride • Wheatley
400 BROOKESbusU1 timetable - valid from 4th September 2022 (PDF, 921KB)
100 BROOKESbusU5
Blackbird Leys • Templars Square • Hollow Way • Oxford Brookes University • John Radcliffe Hospital (Monday to Friday daytime)
Oxford City Centre • Hollow Way • Oxford Brookes University (Monday to Friday evenings and Saturday/Sunday all day)
100 BROOKESbusU5 timetable - valid from 4th September 2022 (PDF, 45KB)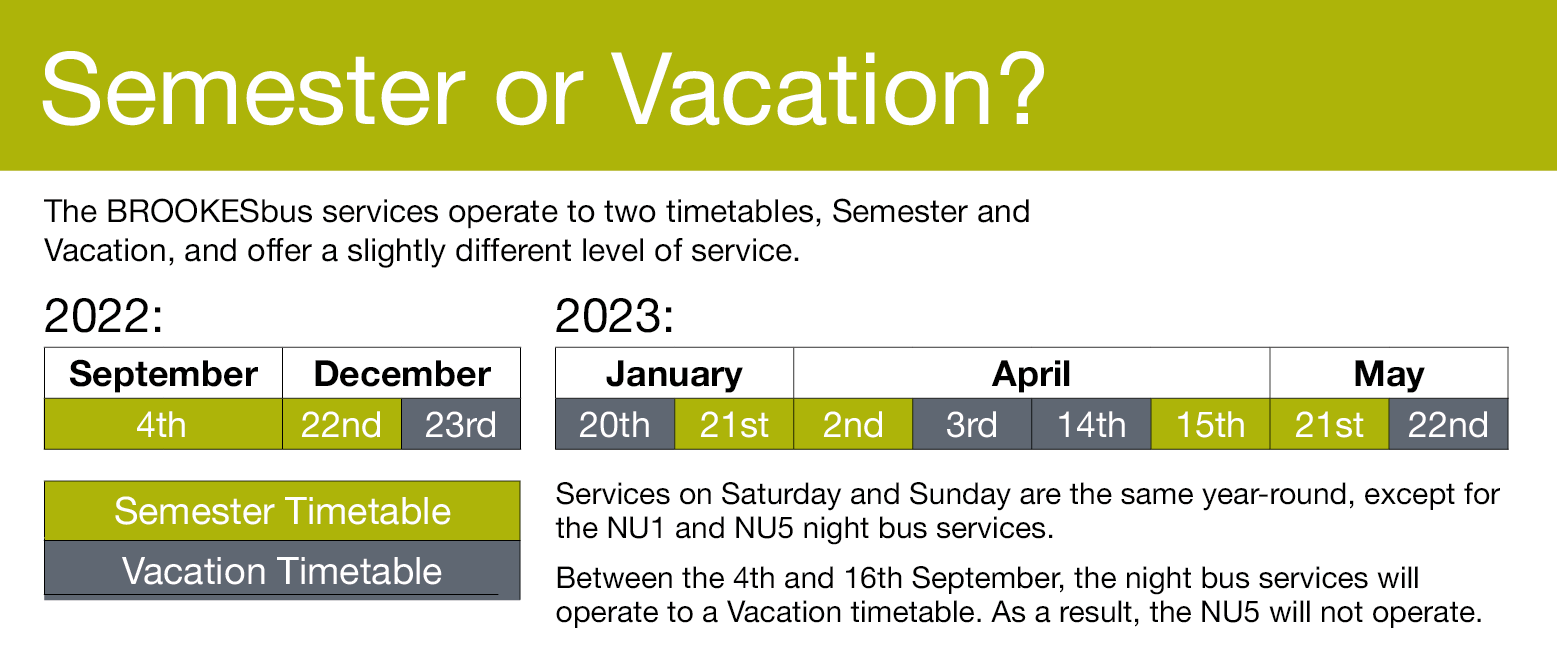 BROOKESbus Calendar - 2022 to 2023 (PDF, 376KB)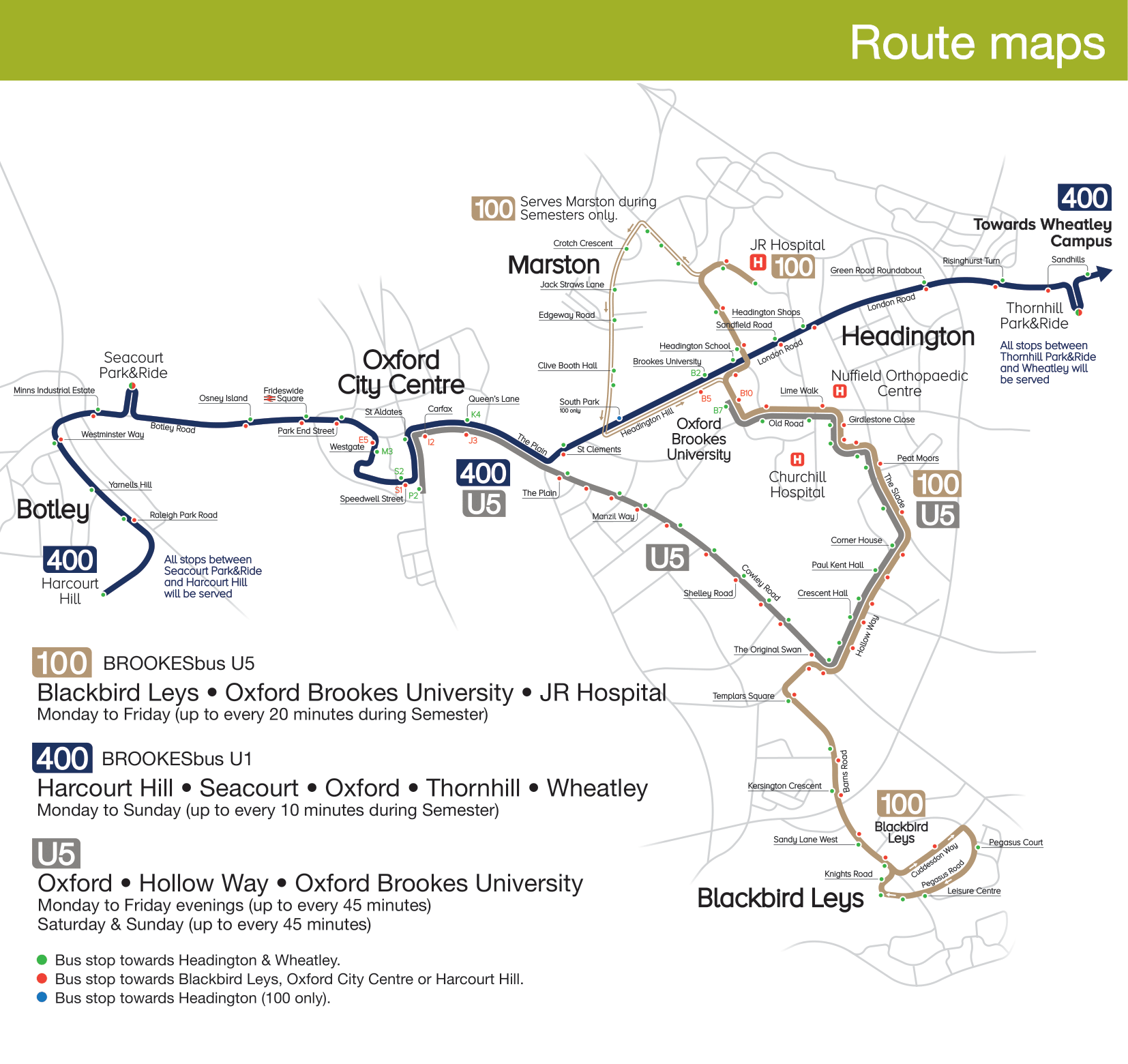 BROOKESbus network map - valid from 4th September 2022 (PDF, 214KB)